Publication:
Propuesta de Reglamento sobre inteligencia artificial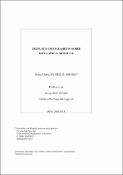 Authors
Advisors (or tutors)
Editors
Abstract
Junto a una síntesis de los fundamentos y contenido de la Propuesta de Reglamento sobre inteligencia artificial presentada por la Comisión Europea en abril de 2021, se incluye una primera reflexión acerca del ámbito de aplicación del nuevo instrumento, su interacción con otras disposiciones del Derecho de la Unión, los mecanismos previstos para su aplicación, así como las principales cuestiones en la materia que quedan al margen de la Propuesta.
This contribution provides an overview of the foundations and content of the Proposal for a Regulation on artificial intelligence presented by the European Commission in April 2021. Furthermore, the scope of application of the new instrument, its interaction with other provisions of EU law, the mechanisms envisaged for its implementation, as well as the main issues in the field that remain outside the Proposal are discussed.
Collections