Publication:
A comparison of experimental and theoretical low energy positron scattering from furan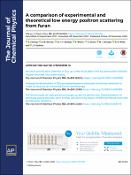 Advisors (or tutors)
Editors
Publisher
American Institute of Physics
Abstract
This paper presents a joint experimental and theoretical study of positron scattering from furan. Experimental data were measured using the low energy positron beamline located at the Australian National University and cover an energy range from 1 eV to 30 eV. Cross sections were measured for total scattering, total elastic and inelastic scattering, positronium formation, and differential elastic scattering. Two theoretical approaches are presented: the Schwinger multichannel method and the independent atom method with screening corrected additivity rule. In addition, our data are compared to corresponding electron scattering results from the same target with a number of significant differences observed and discussed.
Description
© 2020 Author(s). Published under license by AIP Publishing. The authors would like to thank Mr. Ross Tranter for his ongoing technical support of the experimental equipment used in the measurements presented here. The experimental side of this work was funded through the Australian Research Council Discovery Program (Grant No. DP190100696). F.B. and G.G. acknowledge partial financial support from the Spanish Ministerio de Ciencia, Innovación y Universidades (Project Nos. FIS2016-80440 and PID2019-104727RB-C21) and CSIC (Project No. LINKA20085). G.M.M. and M.H.F.B. acknowledge support from the Brazilian Agencies CoordenacAo de Aperfeicoamento de Pessoal de Nivel Superior (CAPES) and Conselho Nacional de Desenvolvimento Cientifico e Tecnologico (CNPq). G.M.M. and M.H.F.B. also acknowledge computational support from CENAPAD-SP and Professor Carlos de Carvalho for computational support at LFTC-DFis-UFPR and LCPAD-UFPR.
Collections