Publication:
Mesoporous bioactive glasses for regenerative medicine.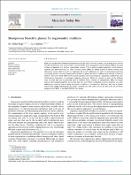 Advisors (or tutors)
Editors
Abstract
Stem cells are the central element of regenerative medicine (RM). However, in many clinical applications the use of scaffolds fabricated with biomaterials is required. In this sense, mesoporous bioactive glasses (MBGs) are going to play an important role in bone regeneration because their striking textural properties, quick bioactive response and biocompatibility. As the other bioactive glasses, MBGs are mainly formed by silicon, calcium and phosphorus oxides whose ions play an important role in cell proliferation as well as in homeostasis and bone remodeling process. A common improvement of bioactive glasses for RM is by adding small amounts of oxides of elements that confer them additional biological capacities, including osteogenic, angiogenic, antibacterial, anti-inflammatory, haemostatic or anticancer properties. Moreover, MBGs are versatile in terms of the different ways in which they can be processed such as scaffolds, fibers, coatings or nanoparticles. MBGs are unique because their textural properties are so high that they still exhibit outstanding bioactive responses even after adding extra inorganic ions or being processed as scaffolds or nanoparticles. Moreover, they can be further improved by loading with biomolecules, drugs and stem cells. This article reviews the state of the art and future perspectives of MBGs in the field of RM of hard tissues.
Description
CRUE-CSIC (Acuerdos Transformativos 2021) RESEARCHER ID M-3378-2014 (María Vallet Regí) ORCID 0000-0002-6104-4889 (María Vallet Regí) RESEARCHER ID M-3316-2014 (Antonio Salinas Sánchez) ORCID 0000-0002-8408-3389 (Antonio Salinas Sánchez)
Collections