Publication:
Inclusión y origen geográfico de la Alta Función Pública del Estado Español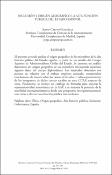 Authors
Advisors (or tutors)
Editors
Publisher
Universidad de Valparaíso (Chile)
Abstract
En este artículo se pretende realizar un estudio sobre el origen geográfico de los funcionarios de la Administración General del Estado (AGE), focalizando la unidad de análisis en el cuerpo superior de administradores civiles del Estado, y orientando la reflexión a considerar si dicho origen tiene relevancia en términos de inclusividad y de cohesión del Estado español. El análisis se inscribe en el marco de los estudios intergubernamentales o de la gobernanza multinivel, los cuales han incorporado recientemente la variable inclusiva al análisis. Una hipótesis que se desea abordar es si la descentralización política que ha experimentado el Estado español desde 1978 ha supuesto un cambio en la procedencia de las élites funcionariales de la AGE.
This article analyzes the geographical origin of senior civil servants in Spain, based on a study of the Upper Body of Civil State Administrators. A diachronic analysis of the geographical origin of its members (including some data for the diplomatic service) is presented. The results obtained are combined with the empirical work carried out, drawing interesting conclusions about the causes of the over- and under-representation of the members of this body who were born in some autonomous communities as opposed to others. Finally, the article includes a catalog of formulas to improve the regional representativeness of the General State Administration (AGE) and shows the power of inter-administrative mobility from an intergovernmental perspective, with a view to achieving a more inclusive civil service.
Collections