Publication:
Desarrollo de las bases de un sistema operativo inspirado en Plan 9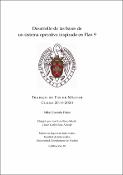 Authors
Advisors (or tutors)
Editors
Abstract
En este Trabajo de Fin de Máster se han sentado las bases de un sencillo sistema operativo de propósito didáctico para el PC (x86) de 32 bits denominado Mark 1. Para ello se ha creado un cargador de arranque a medida, una utilidad en línea de comandos llamada f7disk, una biblioteca mínima de C y un pequeño núcleo de 32 bits. También se ha diseñado un nuevo tipo de partición para instalar las imágenes del núcleo. En el transcurso del desarrollo se han revisitado aspectos de la arquitectura elegida desde el punto de vista de la implementación, tales como la secuencia de arranque, el modo real y el protegido, la segmentación, la memoria virtual, el manejo de interrupciones y la planificación de hilos. Se espera que Mark 1 fomente la experimentación construyendo nuevo software de sistema, y sirva como referencia y entorno de pruebas a otros estudiantes y entusiastas.
This Master Thesis lays the foundation of a simple didactic operating system named Mark 1, targeting the 32-bit PC (x86). Four modules has been created to this effect: a bootloader, a command line utility named f7disk, a minimum C library and a small 32-bit kernel. In the course of the project some aspects of the chosen architecture has been revisited from the implementation point of view, such as the bootstrap, real and protected mode, segmentation, virtual memory, interrupt handling, and thread scheduling. Mark 1 is intended to encourage experimentation through the building of new system software, and serve as reference and test environment for other students and enthusiasts.
Description
Trabajo de Fin de Máster en Ingeniería Informática, Facultad de Informática UCM, Departamento de Arquitectura de Computadores y Automática, Curso 2019/2020