Publication:
Termómetro emocional para medir la ira a partir de su fisiología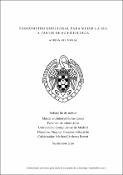 Authors
Advisors (or tutors)
Editors
Abstract
En una consulta clínica en la que se trabaja con personas con problemas de gestión de la ira, es muy importante conocer los episodios de ira que ha atravesado el paciente entre cada sesión para poder ver el progreso del paciente. Esto sin embargo no es tarea sencilla, pues debido a la deseabilidad social, una incorrecta interpretación, la mala memoria o que problemas comunicativos por parte del paciente, puede ser que el paciente no transmita correctamente la información de sus episodios de ira al terapeuta, hecho que dificulta la actuación del profesional. Adicionalmente, cuando el paciente está sufriendo un episodio de ira, no dispone de la ayuda del terapeuta para poder gestionar dicho episodio. Partiendo de esta problemática, se ha diseñado una aplicación Android conectada a un anillo inteligente para poder registrar los episodios de ira del paciente a partir de sus constantes vitales y sugerirle pautas previamente definidas por el terapeuta para reducir dicho nivel de ira. La aplicación se ha elaborado siguiendo un diseño orientado al usuario contando con la colaboración de una experta en la materia. Esta solución tecnológica no solo ayudará al paciente a gestionar sus episodios de ira sino que además permitirá al terapeuta acceder al registro histórico de episodios de la ira de cada uno de sus pacientes, pudiendo ajustar las pautas recomendadas a los mismos en función de su desempeño. Esta aplicación, por tanto, es un complemento para mejorar la efectividad de la gestión profesional de la ira disfuncional.
In a clinical consult where they work with people which have difficulties managing anger, it is really important to know the anger episodes that the patient has gone through between the different sessions in order to track the patient's progress. However, this is not an easy task; due to the the social desirability, an incorrect interpretation from the patient and/or bad memory, the patient might not correctly transmit the information with regards to his/her anger episodes, hindering the professional help. Additionally, when the patient is suffering an anger episode, he/she does not have any help in order to deal that anger episode. Regarding this problematic, it has been designed an Android application connected to a smart ring in order to track the anger episodes of the patient and suggest him/her patterns to reduce their anger level that have previously been defined by the specialist. The therapist will also be able to access through a web application to the historical register of anger episodes of each of their patients. For each of them, they can adjust the recommended patterns for each anger level basing their decision on the historical usefulness of each pattern for each patient. Therefore, this technological decision is a compliment to the therapy for managing dysfunctional anger.
Description
Trabajo fin de Máster en Internet de las Cosas, Facultad de Informática UCM, Departamento de Ingeniería del Software e Inteligencia Artificial, Curso 2019/2020.