Publication:
Estudio de la viabilidad de un asistente accesible para la gestión de espacios públicos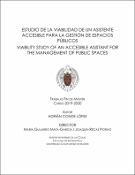 Authors
Advisors (or tutors)
Editors
Abstract
Es una clara evidencia que el mundo en el que vivimos no ha parado de cambiar e innovar cada día que ha pasado. El propósito suele ser el tópico de siempre, mejorar la vida de los seres humanos. Si, por ejemplo, nos ponemos en la situación de que un grupo de personas quiere entrar en un lugar, o espera ser atendido por alguien en concreto, los seres humanos hacemos lo que se denomina comúnmente como una cola. Esta la realizamos de "a uno", sin embargo, desde hace algún tiempo hacemos uso de los tiques. Cada persona tiene un tique y cada tique tiene asignado un número que indica su turno, y los turnos van apareciendo en una pantalla. Si observamos esta realidad con perspectiva, ¿qué pasa con aquellas personas que sufren de algún tipo de discapacidad visual? No pueden saber cuando es su turno sin tener que hacer uso de la humildad humana. En este trabajo se analiza una posible solución enfocada principalmente en estas personas, con el fin de seguir mejorando la vida de todos los seres humanos.
It is clear the world where we live has not stopped changing and innovating every day that has passed. Purpose usually is the usual topic, to improve the lives of human beings, making it easier. If we put ourselves, for example, in a situation where a group of people wants to enter a place, or expects to be attended by someone in particular, we do what is known as queue. We usually do this like "one at a time", however, for some time now, we use tickets. Each person has a ticket, which is assigned with a number that indicates their turn and turns appear on a screen. Now we are going to look this reality with perspective, what is going on to those people who has some type of visual disability?They cannot know when it is their turn without having to use human humility. In this project, a possible solution is being studied focusing on these people, in order to continue improving the lives of all human beings.
Description
Trabajo de Fin de Máster en Internet de las Cosas, Facultad de Informática UCM, Departamento de Arquitectura de Computadores y Automática, Curso 2019/2020.