Publication:
La mentoría social como solución comunicativa ante el aislamiento y la exclusión de los MENA en España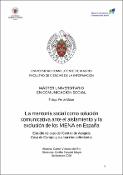 Authors
Advisors (or tutors)
Editors
Abstract
Los menores extranjeros no acompañados (MENA) son uno de los colectivos más vulnerables en España: por ser menores, ser migrantes y viajar separados de quien les provee de cuidado y protección. Las necesidades de estos jóvenes quedan a menudo diluidas en un sistema de atención precario, que no tiene ni los recursos ni la coordinación suficientes para asegurar derechos básicos como el de integración en la comunidad de acogida. El aislamiento y la exclusión del colectivo MENA en España se detecta como problemática, la cual se pretende tratar a través del mentoring como herramienta de intervención comunicativa. Así, el objetivo central de esta investigación es comprobar si una dinámica de mentoría social es adecuada para cubrir las necesidades de inclusión del colectivo MENA. A través de una perspectiva cualitativa e inductiva y partiendo de una experiencia sobre el terreno, esta investigación se basa en un estudio de caso desarrollado en el Centro de Acogida Casa de Campo. La observación, las entrevistas en profundidad y las entrevistas grupales permiten llegar a los diferentes actores implicados en la problemática. Los datos recogidos consiguen detectar las necesidades propias del centro y su entorno. El proyecto finaliza con la confirmación de la mentoría social como solución comunicativa factible frente a la problemática de aislamiento y exclusión que el colectivo MENA sufre en España. Habiéndose confirmado la hipótesis, se presenta 'Buddy', un programa de mentoring adaptado a las necesidades identificadas en el Centro de Acogida Casa de Campo y flexible en su aplicación a otros recursos de acogida.
Unaccompanied foreign minors (abbreviated as MENA in Spanish) are one of the most vulnerable groups in Spain: they are minors, they are migrants and they travel alone without anyone to provide them with care and protection. The needs of these young people are often diluted in a precarious care system, which does not have sufficient resources or coordination to ensure basic rights such as the integration in the host community. The isolation and exclusion of the MENA community in Spain is detected as a problem to be addressed through mentoring as a communicative intervention tool. Thus, the main objective of this project is to check if a social mentoring dynamic is adequate to meet the need for inclusion of the MENA community. Starting from a field-based experience in Casa de Campo Welfare Center, this research stands on a case study developed through a qualitative and inductive perspective. Observation, in-depth interviews and discussion groups make it possible to reach the different actors involved in the problem and make it possible to detect the needs of the Center and its environment. This project concludes with the confirmation that social mentoring is a realistic communication solution to the problems of isolation and exclusion that the MENA community suffers in Spain. Having confirmed the hypothesis, 'Buddy' is presented as a social mentoring program adapted to the needs detected in Casa de Campo Welfare Center and as a flexible design for its application to other reception resources.