Publication:
Evaluación de los cambios en la densitometría y el volumen corneal en pacientes intervenidos de miopía con cirugía refractiva tipo SMILE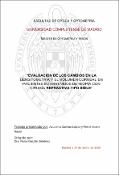 Advisors (or tutors)
Editors
Abstract
Objetivo: Evaluar los cambios ocurridos en la densitometría corneal (CD) y volumetría corneal (VC) tras la extracción del lentículo por incisión pequeña (ReLEx SMILE) y analizar la influencia de la refracción, la profundidad a la que se crea el lentículo y la zona óptica sobre la densitometría corneal (DC) y la volumetría corneal (VC). Material y métodos: Se realizó un estudio retrospectivo, no aleatorizado, compuesto por una muestra 223 ojos. Los valores preoperatorios y postoperatorios de 3 meses y 1 año de DC y VC se midieron usando el sistema Pentacam®. Los pacientes se dividieron en dos grupos según la zona óptica (ZO) y en tres grupos según la profundidad de creación del lentículo y de la miopía tratada. Resultados: La edad media de los pacientes era de 33,53±6,94 años. Se encontraron diferencias estadísticamente significativas a lo largo de las visitas en la DC y VC. La ZO y la profundidad de creación del lentículo no presentaron influencia en el VC (p>0,05), pero si se encontró significación estadística para la DC a los 3 meses en la profundidad de 130 μm respecto a los otros dos grupos de profundidad en el área de los 6 mm centrales de la córnea (p<0,05). La miopía y el VC tienen una relación significativa y lineal, y en la visita anual de la DC se muestran diferencias entre grupos de miopes leves y moderados para los 6mm centrales de la córnea, y entre moderados y altos para la capa anterior de la córnea (p<0,05). Conclusiones: El VC sigue una tendencia decreciente en un inicio y un posterior crecimiento tras la visita anual para cualquiera de las áreas corneales estudiadas, la DC por contra, no sigue ningún patrón tras la cirugía SMILE, el área central es la menos afectada por la intervención y la capa anterior la que más modificaciones sufre. A mayor error refractivo más VC es retirado y en consecuencia, se obtiene mayor transparencia corneal. La ZO y la profundidad a la que se creó el lentículo no influyeron en el VC resultante.
Purpose: To investigate the variations of corneal densitometry (CD) and corneal volume (CV) after small incision lenticule extraction (ReLEx SMILE) and analyze the influences of refraction, different cap thicknesses, optical zone on resulting corneal densitometry (CD) and corneal volume (CV). Material and method: 223 eyes were recruited in this retrospective, no randomized study. Pre and post-operative measurements of corneal densitometry and volumetry were taken with Pentacam ®. Patients were divided in two groups attending the optical zone and in three groups according to different cap thickness and the treated myopia. Results: The mean age of the patients was 33,53±6,94 years. Statistically significant differences were found after SMILE throughout the visits in CD and CV. OZ and cap thickness had no significant effects on CV (p>0.05), although a statistical significance was observed in CD 3 months after the surgery for the 130 μm depth group in comparison to the two other depth groups in the central 6 mm of the cornea (p<0.05). Myopia and CV showed a significant linear correlation, and on the anual visit, statistical differences were found in the CD between patients with low and moderate myopia for the central area of the cornea. Moderate and high myopia patients differed too in the anterior corneal layer (p<0.05). Conclusions: CV kept same tendency regardless corneal area analyzed, it decreased at the beginning and then showed an increase after one year. On the contrary, no pattern could be detected for DC after SMILE. Central area was the less affected zone by the intervention, while anterior layer modifications were more pronounced. The results showed that the higher the refractive error, the more corneal volume was removed, leading to better corneal transparency in the patients. No influence was observed of optical zone and cap thickness on resulting CV.