Publication:
La transferencia en psicoanálisis: un diálogo entre Winnicott y Lacan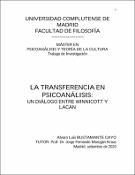 Authors
Advisors (or tutors)
Editors
Abstract
El objetivo de esta investigación es analizar y comparar las perspectivas de Donald Winnicott y Jacques Lacan en torno al concepto de transferencia. Este trabajo concluye, en primer lugar, que la función winnicottiana del holding del analista puede propiciar la instalación de lo que Lacan denominó "transferencia simbólica" y, con ello, la apertura del deseo del paciente. En segundo lugar, precisamente la noción de transferencia simbólica podría estar emparentada con lo que Winnicott llamó "espacio transicional", una zona tercera que va más allá de la relación analista y paciente y que le ofrece a éste la posibilidad, desde Winnicott, de reparar errores de su entorno primario y, desde Lacan, de producir nuevas significaciones a las experiencias de su vida.Finalmente, al término del análisis, y pese a las diferencias en sus conceptualizaciones, tanto el objeto transicional winnicottiano como el objeto a lacaniano parecen apuntar al rol del analista como objeto que debe ser "desechado" a fin de posibilitar la liberación del sujeto del deseo del Otro. A pesar de sus notables divergencias epistemológicas, esta investigación arroja luces sobre la posibilidad de pensar un modelo psicoanalítico contemporáneo que incorpore las ideas de dos autores aparentemente tan dispares pero que destacan por la riqueza de sus postulados teóricos y aportaciones clínicas en el tratamiento del malestar subjetivo.
The aims of this research is to analyze and compare the perspectives of Donald Winnicott and Jacques Lacan regarding the concept of transference. This work concludes, firstly, that the winnicottian analyst's holding function may allow the foundation of what Lacan called "symbolic transference" and thus the opening of the patient's desire. Second, precisely the notion of symbolic transference could be related to what Winnicott called "transitional space", a third zone that goes beyond the analytical relationship and offers the patient the possibility of repairing his primary environment's mistakes (Winnicott) and of producing new meanings to the experiences of his life (Lacan) .Finally, at the end of the analysis, and despite the differences in their conceptualizations, both the winnicottian transitional object and the lacanian object a seem to aim the analyst's role as disposable object in order to enable the subject's liberation from the desire of the Other. Despite their striking epistemological divergences, this work sheds light on the possibility of thinking about a contemporary psychoanalytic model that embodies the ideas of two seemingly so distinct authors but who outstand due to the richness of their theoretical postulates and clinical contributions for the treatment of subjective distress.