Publication:
Pasado y presente de la anticresis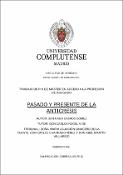 Authors
Advisors (or tutors)
Editors
Abstract
La anticresis viene contemplada en nuestro Código Civil como un derecho real de garantía equiparable hasta cierto punto a la prenda y la hipoteca. No obstante, este un concepto muy poco empleado en la práctica y en el tráfico jurídico, debido, principalmente, a una deficiente regulación por parte del legislador. A lo largo de este trabajo se va a proceder a delimitar el origen, desarrollo y utilidad de la figura jurídica de la anticresis. Igualmente se abordan cuestiones como el debate doctrinal sobre la naturaleza de este derecho y su situación actual en el Derecho Común y algunos derechos forales, así como que se esboza una prospección del hipotético futuro de la anticresis.
The antichresis is defined in the current Spanish Civil Code as a security right, comparable until certain extent to the forfeit and the mortgage. Notwithstanding, this is quite an unpopular term, not being used in the day to day legal trading, mostly due to a pauper regulation. During this paper, the origin, development and actual utility of the legal concept of the antichresis, will be delineated. Additionally, this essay approaches other questions regarding doctrinal debates about its nature or its current situation in the Common Law and few Regional Laws, as well as propose a hypothetical future for the antichresis.