Publication:
Crowdlending o préstamo en masa y evaluación de la solvencia del promotor de la financiación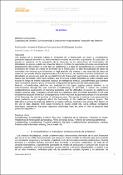 Authors
Advisors (or tutors)
Editors
Abstract
Se analiza en el presente trabajo el fenómeno de la financiación en masa o crowdfunding, prestando especial atención a su instrumentación a través del contrato de préstamo. En particular, se estudia el problema de la evaluación de la solvencia de los promotores de financiación, las dificultades de acceso a datos de solvencia fiables. Los fallos de regulación provocan una importante desprotección del inversor en este tipo de plataformas. La falta de transparencia en el proceso de evaluación del riesgo de crédito del promotor de la financiación, la falta de publicidad de datos de morosidad son factores que evidencian la frágil posición del inversor y una opacidad de datos de solvencia que puede afectar negativamente al funcionamiento del sistema financiero tradicional. Las dificultades de acceso por parte de las plataformas de financiación participativa a datos de solvencia fiables han provocado, entre otros factores, que se recurra a datos obtenidos de redes sociales para evaluar el riesgo de crédito utilizando técnicas de inteligencia artificial, procedimientos que plantean retos normativos desde el punto de vista de la regulación de protección de datos personales.
Crowdfunding platforms are analyzed in this paper, paying special attention to its instrumentation through the loan contract (crowdlending). In particular, it studies the problem creditworthiness assessment of financing promoters and the difficulties of access by platforms to reliable solvency data. Regulatory failures lead to a significant lack of investor protection in this type of platforms because of the lack of transparency in the credit risk assessment process of the promoter of the financing, the lack of publicity of delinquency data. The opacity of solvency data generated by these platforms could negatively affect the functioning of the traditional financial system. The difficulties in access by financing platforms to reliable solvency data have led, among other factors, to the use of data obtained from social networks to assess credit risk, using artificial intelligence techniques, procedures that pose regulatory challenges from the point of view of personal data protection regulation.
Collections