Publication:
Tratamiento archivístico de los archivos personales: El Fondo Fernando Redón Huici en el Archivo Contemporáneo de Navarra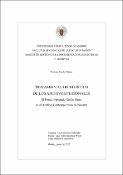 Authors
Advisors (or tutors)
Editors
Abstract
Este trabajo es una aportación al debate sobre si los archivos personales pueden ser o no objeto de tratamiento archivístico en archivos profesionales, es decir, si pueden estar custodiados en estos centros de la memoria. A través de la revisión bibliográfica en torno a esta cuestión, se establecen las coordenadas de la discusión y se analiza la situación de los archivos personales en España. Aclarado el marco teórico, se desarrolla un estudio de caso concreto a través de la identificación, clasificación, organización y descripción del Fondo Fernando Redón Huici en el Archivo Contemporáneo de Navarra (ACN), un legado recibido dentro de su proyecto Fondos contemporáneos y del presente de Navarra.
This work is a contribution to the debate on whether or not personal papers can be the object of archival treatment in professional archives, in other words, if they can be kept in these memory centers. Through the bibliographical review on the subject, the coordinates of the discussion are set and the situation of personal papers in Spain is analyzed. Once the theoretical framework has been clarified, a specific case study is developed through the identification, classification, organization and description of the Fernando Redón Huici Fond in the Contemporary Archive of Navarra, a legacy received within its Contemporary and Present Fonds of Navarra project.