Publication:
Una guía digital para visitar el parque de El Retiro de Madrid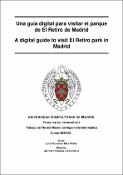 Authors
Advisors (or tutors)
Editors
Abstract
Este trabajo consiste en la realización de una aplicación móvil que permite gestionar distintos puntos de interés de un lugar para encontrar durante una visita así como eventos organizados en el lugar, en el caso de este proyecto, en el Parque de El Retiro, de forma que sirva de guía para poder buscar y localizar aquellos que se adapten a los requisitos del usuario. Existen 3 tipos distintos de roles dentro de la aplicación: Usuario: Tiene acceso al buscador donde introducir los parámetros de búsqueda para poder seleccionar un punto de interés y acceso al perfil donde ver y modificar sus datos. Dueño local: Tiene las mismas funcionalidades que el usuario normal, pero además puede gestionar el punto de interés de tipo bares y restaurantes, con su información pertinente. Administrador: Además de todo lo anterior, puede gestionar todos los tipos de puntos de interés. El registro se realiza a través de la aplicación, siendo por defecto un usuario normal. La aplicación también permite la gestión de todos los datos e información introducida ´ para posteriormente mostrar al usuario. El buscador permite búsqueda por parámetros, en la que se puede realizar una búsqueda personalizada con distintos parámetros para acotar los resultados, según el tipo del punto de interés varían los parámetros disponibles para realizar la búsqueda del punto de interés. Se podrá acceder a una visión general del mapa con los lugares marcados y la ubicación actual para seleccionar el deseado. Los puntos de interés pueden ser de tipo monumento, flora, evento y bares/establecimientos, al seleccionar un punto de interés se permite ver su descripción, ver comentarios y valoraciones de otra gente y hacer una valoración propia. Los usuarios tendrán acceso a la valoración del punto de interés en cuestión, así como a las reseñas realizadas por los demás usuarios junto con el nombre del perfil de aquel que realizo la reseña.
This project consists in the realization of a mobile application that allows managing different points of interest in a way that serves as a guide to search for power and locate those that adapt to the user's requirements. There are 3 different types of roles within the application: User: Has access to the search engine where you can enter the search param eters to be able to select a point of interest and access to the profile where you can view and modify your data. Local owner: Local owner: With the same functionalities as the normal user, but it can also manage the point of interest such as bars and restaurants, with its pertinent information. Admin: In addition to all of the above, you can manage all types of POIs. Registration is done through the application, being a normal user by default. The application also allows the management of all the data and information entered to later show the user. The search engine allows a search by parameters, in which a personalized search can be carried out with different parameters to narrow down the results. Depending on the type of point of interest, the parameters available to search for the point of interest vary. Also access to an overview of the map with the marked places and the current location to select the desired one. The points of interest can be of the monument, flora, event and bars/establishments type. By selecting a point of interest you can see its description, locate it on the map, see comments and evaluations from other people and make your own evaluation. Users will have access to the evaluation of the point of interest in question, as well as the reviews made by other users together with the name of the profile of the person who made the review.
Description
Trabajo de Fin de Máster en Ingeniería Informática, Facultad de Informática UCM, Departamento de Sistemas Informáticos y Computación, Curso 2022/2023.