Publication:
OntoLing annotizer: una herramienta de ayuda para la anotación lingüística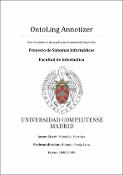 Files
Authors
Advisors (or tutors)
Editors
Abstract
El objetivo del presente proyecto es desarrollar una herramienta (OntoLing Annotizer) destinada a la anotación semántica de documentos. La anotación semántica de documentos, tiene un papel principal dentro de la Web Semántica, pues explicita el significado o la semántica de los recursos de la web, para que este pueda ser "entendido" por los computadores. OntoLing Annotizer explicita la semántica de los documentos mediante anotaciones, las cuales son añadidas en un documento distinto del original, teniendo así el texto y las anotaciones separadas. El sistema de anotación se sustenta en cuatro tipos de ontologías lingüísticas: la de unidades, la de atributos, la de valores y la de relaciones. Cada una de las anotaciones pertenece a un concepto de la ontología de unidades. Estas unidades pueden tener unos atributos y estos atributos toman unos valores. Finalmente, las unidades (y por tanto, las anotaciones) pueden relacionarse unas con otras. [ABSTRACT] This project aims at developing a tool for the semantic annotation of documents, called "OntoLing Annotizer". The semantic annotation of documents has an important role in the Semantic Web, since it makes explicit the meaning or the semantics of web resources. Thus, it can be 'understood' by computers. OntoLing Annotizer makes the meaning of documents explicit by means of annotations, which are included into a different document from the original one, keeping the original text and its annotations separated. The annotation process is based on four different types of ontologies, related to linguistic units, attributes, values and relationships respectively. Each of the annotations belongs to a concept of the ontology of units. These units may have some attributes and these attributes can take certain values. Finally, units (and, hence, annotations) can be interrelated as well.
Description
Proyecto de Sistemas Informáticos (Facultad de Informática, Curso 2008-2009)
Collections