Publication:
Evolución tectonosedimentaria de una cuenca extensional intraplaca: La cuenca finijurásica-eocretácica de Los Cameros (La Rioja-Soria)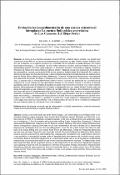 Files
Advisors (or tutors)
Editors
Publisher
Sociedad Geológica de España
Abstract
La Cuenca de Los Cameros, situada en el sector NW de la Cadena Ibérica, contiene una potente serie sedimentaria (hasta 9000 m) de carácter fundamentalmente continental y de edad Jurásico terminal-Cretácico inferior, que se depositó en un régimen distensivo muy subsidente. En su evolución se pueden distinguir tres eventos geotectónicos principales: 1) la extensión sin-rift y relleno sincrónico (Jurásico terminal-Cretácico inferior); 2) el metamorfismo post-rift (Cretácico medio-superior) y 3) la inversión tectónica o destrucción en régimen compresivo (Terciario). El relleno de la cuenca (Titónico-Albiense inferior) constituye un gran ciclo limitado por discontinuidades estratigráficas mayores, que se puede dividir en seis secuencias deposicionales. En el desarrollo de la cuenca se diferencian dos etapas de rifting. En la primera (Jurásico terminal) se formaron también las otras dos cuencas principales del Rifting Ibérico: Ibérica meridional y Maestrazgo. Durante el Valanginiense-Hauteriviense, como resultado de la atenuación del proceso de rifting, se redujeron en las tres cuencas tanto la tasa como las áreas de sedimentación. La segunda etapa de rifting (BmTemiense-Albiense inferior) ocasionó una aceleración en la acumulación de sedimentos en las tres cuencas, que fue especialmente acusada en Los Cameros. Además, se reconoce un marcado paralelismo entre los ciclos de extensión de las facies lacustres en la cuenca de Los Cameros y los ciclos eustáticos globales. Estructuralmente, la Cuenca de Los Cameros es interpretada como una cuenca sinclinal formada sobre una rampa de buzamiento sur que conecta dos rellanos de una falla extensiva situada a varios kilómetros de profundidad, dentro del zócalo. El desplazamiento de dicha falla produjo la cuenca e hizo aumentar sus dimensiones progresivamente. Los depocentros de la secuencias de depósito fueron migrando hacia el norte en las unidades progresivamente más modernas, a consecuencia del desplazamiento de la falla. Durante la compresión tercim'ia (durante el Paleógeno y hasta el Mioceno inferior), se produjo la inversión de la cuenca, mediante un cabalgamiento neoformado en su margen norte (sobre la cuenca del Ebro, con un desplazamiento de hasta 30 km) y un sistema de cabalgamientos en su borde sur (sobre las cuencas del Duero y de Almazán).
Located in the northwestern part of the Iberian Ranges, Los Cameros Basin was developed under a very subsident extensional regime during the Latest Jurassic-Early Cretaceous interval. This basin was filled with a very thick serie (up to 9000 m) of essentially continental deposits. In the basin evolution three main geotectonic events can be distinguish: 1) Sin-rift extension and synchronous infilling (Latest Jurassic-Em'ly Cretaceous); 2) POSt-rift metamorphism (Middle-Late Cretaceous) and 3) Tectonic inversion (Tertiary). The basin infilling (Tithonian-Early Albian) corresponds to a large cycle bounded by two main unconformities that can be divided into six Depositional Sequences. Its development took place into two rifting phases. In the first one (Latest Jurassic) the other two main basin of the Iberian Rifting were also created: South Iberian and Maestrazgo. During the Valanginian-Hauterivian age both rates and areas of deposition were drastically reduced. The second rifting phase (BmTemian-Early Albian) caused a renewed increment of the sedimentation rate, being specially remarkable in Los Cameros Basin. Moreover a neat parallelism is recognizable between cycles of lacustrine facies development and the global eustatic cycles. Los Cameros Basin is structurally interpreted as a synclinal basin formed upon a south dip ramp in a subhorizontal extensive fault (extensional ramp basin) located several kilometers deep into the basement. The displacement of this fault caused the basin and its progressive increase in size. Depocenters of the successive Depositional Sequences were migrating towards the north as consequence of the fault displacement. Tertiary compression (Paleogene-Early Miocene) provoked the basin inversion by means of a neoformed thrust in its northern margin (up to 30 km displacement over the Tertiary Ebro Basin) and a system of thrusts in the southern margin (over the Tertiary Duero and Almazán basins).
Collections