Publication:
Análisis del comportamiento mecánico de dos implantes con diferente nivel y diseño de la conexión protésica, ante coronas atornilladas de distinta longitud. Estudio in vitro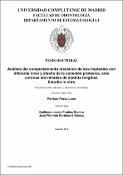 Files
Authors
Advisors (or tutors)
Editors
Publisher
Universidad Complutense de Madrid
Abstract
El tratamiento con implantes dentales osteointegrados representa una opción terapéutica validada científica y clínicamente para la rehabilitación funcional y estética de los pacientes. A pesar de que las prótesis implanto-soportadas han demostrado altas tasas de éxito a largo plazo, se han reportado distintas complicaciones biológicas, mecánicas, estéticas, etc. En relación con las mecánicas, gran número de estudios demuestran que el aflojamiento y fractura de tornillos de retención del pilar o de la prótesis por fatiga son las complicaciones más frecuentes en las restauraciones atornilladas, especialmente en restauraciones unitarias en la zona de molares y premolares. Las complicaciones mecánicas están frecuentemente relacionadas con los materiales y el diseño de los componentes protésicos. Además, los estudios sugieren que pueden estar determinadas por factores como el diseño de la conexión implantaria, geometría de los componentes, procedimientos de fabricación, ajustes entre los componentes, superficie del tornillo, etc. También variables dependientes del operador como la falta de verificación de ajustes pasivos, aplicación incorrecta del torque, falta de pericia técnica, etc., pueden condicionar el éxito final del conjunto implanto protésico. Por otro lado, determinadas características del paciente se han descrito clásicamente como factores de riesgo de complicaciones mecánicas y biológicas. Entre éstas, cabe destacar la presencia de hábitos parafuncionales capaces de generar fuerzas oclusales desfavorables...
Osseointegrated dental implants represent a scientifically and clinically validated therapeutic treatment option for a functional and aesthetic restoration in patients. Although implant-supported prostheses have demonstrated long-term success rates, different biological, mechanical and esthetic complications have been reported. Regarding to mechanical complications, many studies have reported that the loosening and fatigue fracture of the abutment or prostheses screw are the most common failure modes for screw-retained prostheses especially in single implant-supported restorations in the premolar and molar region. Mechanical problems are mostly related to the materials and design of prosthetic components.Moreover, studies have suggested that these complications might be determined by different factors such as the implant connection design, the geometric design of components, the production processes, interface fits, screw surface, etc. Furthermore, variables induced by the operator such as absence of verification of passive fit, failures in the screw tightening, the lack of technical expertise, etc. may interfere with the proper operation of implant-prosthetic restoration. On the other hand, several patient characteristics have been consistently reported as a risk factor for biological and mechanical complications. These factors include parafunctional activity by generating unfavorable occlusal forces...
Description
Tesis inédita de la Universidad Complutense de Madrid de la Facultad de Odontología del Departamento de Estomatología I (Prótesis Bucofacial ), leída el 27 de Noviembre de 2017.
Collections