Publication:
La idea de nación en el pensamiento y la acción política de José Ortega y Gasset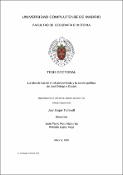 Files
Authors
Advisors (or tutors)
Editors
Publisher
Universidad Complutense de Madrid
Abstract
Esta tesis estudia la idea de nación José Ortega y Gasset, centrándose tanto en su dimensión teórica, como en la puesta en práctica en el foro público. Parte de la historia intelectual contextualista y de las tesis sobre la nacionalización centradas en el sujeto, tratando de responder a tres cuestiones: el motivo que tuvo para buscar una definición de la nación, la adscripción de su teoría a la idea de Kulturnation o a la de la Staatsnation, y la existencia o no de fases en sus respuestas. Para ello, se plantea como hipótesis que Ortega configuró su idea de nación para resolver su crisis existencial, respondiendo a la realidad que le rodeaba a partir de la aplicación de la filosofía, y proponiendo como respuesta una actuación nacionalizadora que hizo de la intelectualidad su base...
This thesis studies José Ortega y Gasset's idea of nation, focusing on both its theoretical dimension, and its practical application in the public forum. It is based on contextualist intellectual history and on the theses on nationalisation centred on the subject, in an attempt to answer three questions: his reasons for seeking a definition of nation, the ascription of his theory to the idea of Kulturnation or to that of Staatsnation, and the existence or not of phases in his answers. To this end, the hypothesis presented is that Ortega formed his idea of nation in order to resolve his existential crisis, responding to the reality surrounding him by means of the application of philosophy, and proposing as a solution a nationalising action/attitude based on intellectuality...
Description
Tesis de la Universidad Complutense de Madrid, Facultad de Geografía e Historia, leída el 05/11/2018
Collections