Publication:
El realismo comunicativo de Lu Xun y Cervantes, una visión social y literaria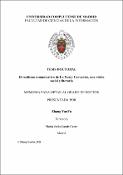 Files
Authors
Advisors (or tutors)
Editors
Publisher
Universidad Complutense de Madrid
Abstract
Este trabajo de investigación se propone el análisis y la comparación entre los significados y simbolismos del realismo literario de Miguel de Cervantes Saavedra (Alcalá de Henares, 29 de septiembre de 1547 - Madrid, 22 de abril de 1616) y de Lu Xun (Shaoxing, 25 de septiembre de 1881 - Shanghái, 19 de octubre de 1936, considerado el creador de la literatura moderna china). Los dos autores vivieron en distintas épocas y en dos países muy lejanos. Esta inmensa lejanía no solo se produce por la distancia y el tiempo sino también porque ambos escritores representan sistemas culturales y políticos muy diferentes, así como la historia en la que se asientan. Sin embargo hay algo que une o puede al menos relacionar a Cervantes y Lu Xun: los dos crearon obras literarias que supusieron la ruptura de las tradiciones literarias vigentes para abrir nuevos caminos en la narrativa literaria de sus sociedades...
This research work proposes the analysis and comparison between the meanings and symbolisms of the literary realism of Miguel de Cervantes Saavedra (Alcalá de Henares, September 29, 1547 - Madrid, April 22, 1616) and Lu Xun (Shaoxing, September 25, 1881 - Shanghai, October 19, 1936, considered the creator of modern Chinese literature). The two authors lived at different times and in two very distant countries. This immense remoteness is not only produced by distance and time but also because both writers represent very different cultural and political systems, as well as the history in which they are based. However, there is something that unites or can at least relate Cervantes and Lu Xun: the two created literary works that meant the breakdown of current literary traditions to open new paths in the literary narrative of their societies...
Description
Tesis inédita de la Universidad Complutense de Madrid, Facultad de Ciencias de la Información, Departamento de Periodismo y Comunicación Global, leída el 29-06-2021
Collections