Publication:
Changes in the Choroidal Thickness of Children Wearing MiSight to Control Myopia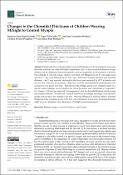 Advisors (or tutors)
Editors
Abstract
Background: Due to the importance of choroidal thickness in the development of myopia, this study examined the effect of MiSight contact lenses (CLs) on the choroidal thickness of myopic children and the differences between responders and non-responders to the treatment with these CLs. Methods: A total of 41 myopic children were fitted with MiSight CLs and 33 with single-vision spectacles. They were followed up for two years. Subfoveal choroidal thickness and choroidal thickness 1 and 3 mm temporal and nasal to the fovea were measured by OCT at baseline and one and two years after the treatment. Differences in all the choroidal thickness parameters were assessed in each group over time. Patients from the MiSight group were classified based on a specific range of changes in axial length at the end of the second year of treatment as "responders" (AL change < 0.22 mm/per year) and "non-responders", and the choroidal thickness of both groups was analyzed. Results: The subfoveal choroidal thickness of the MiSight and single-vision spectacle groups did not show any changes over time. Wearing MiSight CLs induced relative choroidal thickening in the responder group in the first year of treatment. Conclusion: Choroidal thickness might work as a predictor of the effectiveness of MiSight in myopia treatment.
Collections