Publication:
Los Tablaos Flamencos en Madrid entre 1954-1973: una aproximación académica a su escena musical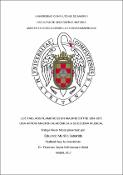 Authors
Advisors (or tutors)
Editors
Abstract
En este trabajo hemos analizado los tablaos flamencos madrileños entre los años 1954 y 1973 como espacio performativo. Hemos encuadrado el trabajo en el marco teórico de la musicología actual, la cual se integra en el análisis de la Historia Cultural, utilizando conceptos e instrumentos teóricos provenientes de la sociología, la antropología, la filosofía y la etnomusicología. Estas herramientas académicas han sido usadas para ampliar el conocimiento sobre la tres patas (toque, baile y cante) que sostuvieron la escena musical de estos espacios, el papel de la mujer y la audiencia que a éstos acudían.
Throughout this master thesis we have analised Madrid's "tablaos flamencos" between the years 1954 and 1973 as performative spaces. We have located the thesis in the theorical framework of the current musicology, which is included in the analysis of the Cultural History, using theoretic resources and concepts that are intrinsic to sociology, anthropology, philosophy and ethnomusicology. These academic tools have been used to expand the knowledge about the three "legs" (the sound, dance and singing) which held the musical scene of these places, the role of women and the audience that attended these spaces.