Publication:
Estudio de la seguridad alimentaria de la carne. Carne de jabalí y de ciervo y su impacto en la salud pública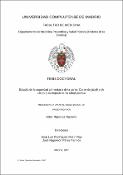 Files
Authors
Advisors (or tutors)
Editors
Publisher
Universidad Complutense de Madrid
Abstract
El objetivo fundamental de la caza ha ido variando a lo largo de los tiempos; desde la obtención de comida y materiales para herramientas y ropa en sus inicios, hasta su práctica sólo como actividad recreativa. Esta actividad se encuentra en auge en España y se estima que genera unos 3.600 millones de euros al año. Las especies de caza mayor más capturadas en España son el jabalí y el ciervo y uno de los productos secundarios que generan es la carne de caza. Esta carne es muy magra con muy poca grasa intramuscular. Las larvas de Trichinella spp. vehiculadas a través de la carne de jabalí y las cepas de E. coli productoras de toxinas Shiga (STEC) de las que los rumiantes salvajes actúan como reservorio son los principales peligros biológicos asociados al consumo de carne de caza. El principal peligro abiótico que relacionado con la carne de caza es la transmisión alimentaria de plomo...
The main objective of hunting has varied over time; from obtaining food and materials for tools and clothing in the beginning, to practice only as a recreational activity. This activity is booming in Spain and is estimated to generate about 3,600 million € per year. Wild boar and red deer are the most captured big game species and game meat is one of the by-products generated. Game meat is very lean with very little intramuscular fat. Trichinella spp. larvae conveyed through the meat of wild boar and strains of E. coli Shiga toxin-producing (STEC) of which act as wild ruminants are the main reservoir biological hazards associated with game meat consumption. Lead is the main abiotic hazard related with game meat...
Description
Tesis inédita de la Universidad Complutense de Madrid, Facultad de Medicina, Departamento de Medicina Preventiva y Salud Pública (Historia de la Ciencia), leída el 10/01/2017
Collections