Publication:
Unitarized Chiral Perturbation Theory and the meson spectrum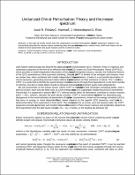 Advisors (or tutors)
Editors
Publisher
American Institute of Physics
Abstract
In this talk we briefly review how the unitarization of Chiral Perturbation Theory with dispersion relations can successfully describe the meson- meson scattering data and generate light resonances, whose mass, width and nature can be related to QCD parameters like quark masses and the number of colors.
Description
©2010Amer Inst Physics. International Conference on Hadron Spectroscopy. (13. 2009. Tallahassee, Florida). J.R.P. thanks the organizers of Hadron2009 for the invitation and for their work to create such a pleasant but exciting conference. Work partially supported by Spanish Ministerio de Educación y Ciencia contracts: FPA2007-29115- E, FPA2008-00592 and FIS2006-03438, U.Complutense/Banco Santander grant PR34/07-15875-BSCH and UCMBSCH GR58/08 910309 and the European Community-Research Infrastructure Integrating Activity "Study of Strongly Interacting Matter" (HadronPhysics2, Grant Agreement n. 227431) under the Seventh Framework Programme of EU.
Citation
1. S. Weinberg, Physica A96 (1979) 327. J. Gasser and H. Leutwyler, Annals Phys. 158 (1984) 142; Nucl. Phys. B 250 (1985) 465. 2. G. 't Hooft, Nucl. Phys. B 72 (1974) 461. E. Witten, Ann. Phys. 128 (1980) 363. 3. I. Caprini et al., Phys. Rev. Lett. 96 (2006) 132001. S. Descotes-Genon and B. Moussallam, Eur. Phys. J. C 48, 553 (2006) 4. T. N. Truong, Phys. Rev. Lett. 61, 2526 (1988). T. N. Truong, Phys. Rev. Lett. 67, 2260 (1991). A. Dobado, M. J. Herrero and T. N. Truong, Phys. Lett. B 235, 134 (1990). 5. A. Dobado and J. R. Peláez, Phys. Rev. D 47 (1993) 4883; Phys. Rev. D 56 (1997) 3057. 6. A. Gomez Nicola, J. R. Pelaez and G. Rios, Phys. Rev. D 77, 056006 (2008) 7. J. Gasser and U.-G. Meißner, Nucl. Phys. B 357 (1991) 90. 8. J.R. Peláez and J. Nebreda, in preparation. See also J. Nebreda's talk in this conference. 9. A. Gomez Nicola and J. R. Peláez,Phys. Rev. D 65, 054009 (2002). AIP Conf. Proc. 660 (2003 102. [hep-ph/0301049]. J. R. Pelaez, Mod. Phys. Lett. A 19, 2879 (2004) 10. S. R. Beane et al. [NPLQCD Collaboration], Phys. Rev. D 77, 094507 (2008) and Phys. Rev. D 77, 014505 (2008); S. R. Beane et al. Phys. Rev. D 74, 114503 (2006); Ph. Boucaud et al. [ETM collaboration], Comput. Phys. Commun. 179, 695 (2008). 11. F. Guerrero and J. A. Oller, Nucl. Phys. B 537, 459 (1999) [Erratum-ibid. B 602, 641 (2001)] 12. J. A. Oller, E. Oset and J. R. Pelaez, Phys. Rev. Lett. 80 (1998) 3452; Phys. Rev. D 59 (1999) 074001 13. J. A. Oller and E. Oset, Nucl. Phys. A 620, 438 (1997) [Erratum-ibid. A 652, 407 (1999)] and Phys. Rev. D 62 (2000) 114017. 14. J. Nieves and E. Ruiz Arriola, Phys. Lett. B 455, 30 (1999) 15. J. A. Oller, Nucl. Phys. A 727, 353 (2003) 16. M. F. M. Lutz and E. E. Kolomeitsev, Nucl. Phys. A 730, 392 (2004). L. Roca, E. Oset and J. Singh, Phys. Rev. D 72, 014002 (2005). L. S. Geng, E. Oset, L. Roca and J. A. Oller, Phys. Rev. D 75, 014017 (2007). 17. J. R. Pelaez, Phys. Rev. Lett. 92, 102001 (2004). 18. J. R. Pelaez and G. Rios, Phys. Rev. Lett. 97, 242002 (2006) 19. J. Nieves and E. R. Arriola, Phys. Rev. D 80, 045023 (2009) 20. Z. X. Sun, et al.[arXiv:hep-ph/0411375] and Z. X. Sun, et al.[arXiv:hep-ph/0503195]. 21. J. R. Pelaez, arXiv:hep-ph/0509284. Proceedings of the 11th International Conference on Elastic and Diffractive Scattering, Blois, France, 15-20 May 2005. J. R. Pelaez and G. Rios arXiv:0905.4689 [hep-ph]. Proceedings of Excited QCD, Zakopane, Poland, 8-14 Feb 2009. 22. R. L. Jaffe, Proc. of the Intl. Symposium on Lepton and Photon Interactions at High Energies. Physikalisches Institut, Univ. of Bonn (1981). ISBN: 3-9800625-0-3. 23. E. Van Beveren, et al. Z. Phys. C 30, 615 (1986) and hep-ph/0606022. E. van Beveren and G. Rupp, Eur. Phys. J. C 22 (2001) 493, J. A. Oller and E. Oset, Phys. Rev. D 60 (1999) 074023. F. E. Close and N. A. Tornqvist, J. Phys. G 28, R249 (2002). 24. L. S. Geng, E. Oset, J. R. Pelaez and L. Roca, Eur. Phys. J. A 39, 81 (2009) 25. C. Hanhart, J. R. Pelaez and G. Rios, Phys. Rev. Lett. 100, 152001 (2008) 26. D. Morgan, Nucl. Phys. A 543 (1992) 632; D. Morgan and M. R. Pennington, Phys. Rev. D 48 (1993) 1185. 27. V. Baru et al., Phys. Lett. B 586 (2004) 53. 28. E. van Beveren et al., AIP Conf. Proc. 660, 353 (2003); Phys. Rev. D 74, 037501 (2006). 29. D. Fernandez-Fraile, A. Gomez Nicola and E. T. Herruzo, Phys. Rev. D 76, 085020 (2007) 30. Ph. Boucaud et al. [ETM Collaboration], Phys. Lett. B 650, 304 (2007) C. Allton et al. [RBC and UKQCD Collaborations], Phys. Rev. D 76, 014504 (2007) C. W. Bernard et al.,Phys. Rev. D 64, 054506 (2001) C. R. Allton et al.Phys. Lett. B 628, 125 (2005) M. Gockeler et al.[QCDS Collaboration], [arXiv:hep-lat/0810.5337]. 31. P. C. Bruns and U.-G. Meißner, Eur. Phys. J. C 40 (2005) 97 32. S. Weinberg, Phys. Rev. 130, 776 (1963); Y. Kalashnikova et al., Eur. Phys. J. A 24 (2005) 437. 33. F. K. Guo, C. Hanhart, F. J. Llanes-Estrada and U. G. Meissner, Phys. Lett. B 678, 90 (2009)
Collections