Publication:
Entre el caso práctico y el juicio simulado: el rol como modalidad intermedia aplicada al TFG en el Derecho Penal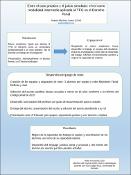 Authors
Advisors (or tutors)
Editors
Abstract
Poster presentado en las Jornadas de Redes de Investigación en Docencia Universitaria y IV Workshop Internacional de Innovación en Enseñanza Superior y TIC –modalidad online— (REDESINNOVAESTIC 2020. Póster elaborado como material docente en el marco del Proyecto de Innovación Aproximación Virtual a los Fundamentos del Derecho Penal. Una experiencia Piloto, UCM, curso 2019-2020. Dicho proyecto de innovación se integró en el Proyecto Redes: Red en metodologías docentes con Tics (Código 4611). Universidad de Alicante
Role applied to the LL.B dissertation in Criminal Law. Experiences with last years LL.B students
Citation
Trabajo de Fin de Grado, Derecho penal, Modalidad roles, Jucio simulado, casos prácticos.