Publication:
Vitamin C and vitamin C plus E improve the immune function in the elderly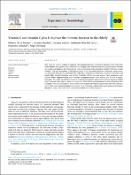 Advisors (or tutors)
Editors
Abstract
With aging the immune response is impaired. This immunosenescence, in which an alteration of the redox state of the immune cells appears, is involved in the rate of aging. Since leukocyte function is a good marker of health and predictor of longevity, the effects of daily oral administration of the antioxidant vitamin C (500 mg), or both vitamin C (500 mg) and vitamin E (200 mg) on several blood neutrophil (adherence, chemotaxis, phagocytosis, and superoxide anion levels) and lymphocyte (adherence, chemotaxis, proliferation, interleukin-2 secretion and natural killer activity) functions were studied in healthy elderly men and women. These parameters were analysed before supplementation, after 3 months of supplementation, and 6 months after the end of supplementation. The results showed that vitamin C, in elderly participants, improved the immune functions studied which achieved values close to those of young adults. These effects were maintained in several functions after 6 months without supplementation. Similar effects were found in the elderly supplemented with both vitamin C and E. Thus, a short period of vitamin C or vitamin C and E ingestion, with the doses used, improves the immune function in elderly men and women and could contribute to a healthy longevity.
Collections