Publication:
La disartria espástica en la esclerosis múltiple: claves para la intervención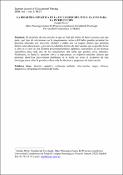 Authors
Advisors (or tutors)
Editors
Abstract
El propósito de este artículo es que al final del mismo el lector conozca, por una parte, qué tipo de alteraciones en la programación motora del habla pueden presentar las personas afectadas con esclerosis múltiple y cuáles son los rasgos clínicos que permiten definir estas alteraciones; y por otra, las distintas formas de intervención que es posible llevar a cabo en el caso de una disartria predominantemente espástica, centrándose en las técnicas específicas para cada uno de los mecanismos del habla que pueden verse alterados. Finalmente, se llama la atención sobre la importancia de objetivar medidas clínicas que permitan identificar precozmente problemas en el habla así como el desarrollo de más investigaciones sobre la gestión y eficacia de las técnicas y programas de intervención.
The purpose of this article is to describe the alterations in speech motor programming that people with multiple sclerosis may suffer and which are the clinical features for defining those alterations. Moreover, we describe the different intervention procedures that can be accomplished in the case of a predominantly spastic dysarthria, focusing on the specific techniques for each speech mechanisms that can be altered. Finally, we draw attention to the importance of achieving objective clinical measures for early identification of speech problems and developing more research on the management and effectiveness of the techniques and intervention programs.
Collections