Publication:
Emotions, Moral Batteries and High-Risk Activism: Understanding the Emotional Practices of the Spanish Anarchists under Franco's Dictatorship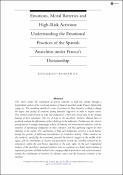 Authors
Advisors (or tutors)
Editors
Abstract
This article studies the reactivation of activist networks in high-risk settings through a longitudinal analysis of the emotional practices of Spanish anarchists under Franco's dictatorship (1939–75). The anarchists mobilised a series of emotions in their discourse, seeking to change the degree and quality of emotions among potential supporters in order to inspire action. This emotion work focused on hope and indignation, which were crucial tools in the strategic framing of their movement. The use of hope in the anarchists' discourse allowed them to positively evaluate the effectiveness of their challenge to the authorities. Furthermore, the activists participated in a strategic dramaturgy in front of domestic and international audiences with the intention of reproducing indignation in these onlookers and thus gathering support for their challenge to the regime. The combination of hope and indignation served as a moral battery during two periods of additional intensification of clandestine activity. Other emotions are also analysed, specifically, the resentment provoked by internal struggles in the middle of the 1940s, and the combination of anxiety and fascination towards the visibility achieved by the communists within the anti Franco opposition in the early 1960s. In the end, longitudinal analysis of the anarchists' emotional practices seeks to contribute to a better understanding of important questions still little studied in the emerging subfield of emotions and social movements, namely the combination of emotions in collective action and the historical evolution of the emotions.
Collections