Publication:
Decay of the N=126, Fr-213 nucleus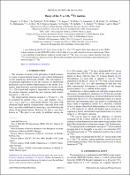 Advisors (or tutors)
Editors
Publisher
American Physical Society
Abstract
gamma rays following the EC/beta(+) and alpha decay of the N = 126, Fr-213 nucleus have been observed at the CERN isotope separator on-line (ISOLDE) facility with the help of gamma-ray and conversion-electron spectroscopy. These gamma rays establish several hitherto unknown excited states in Rn-213. Also, five new a-decay branches from the Fr-213 ground state have been discovered. Shell model calculations have been performed to understand the newly observed states in Rn-213.
Description
© American Physical Society. Artículo firmado por 17 autores. The authors would like to acknowledge the ISOLDE technical staff for their assistance during the experiment. Financial support from the European Union Sixth Framework through RII3-EURONS Contract No. 506065, the UK STFC, the Spanish MINECO through Grants No. FPA2005-03993, No. FPA2013-41267-P, No. FPA2014-52823-C2-1-P, and No. FPA2015-65035-P, and the Centro de Excelencia Severo Ochoa del IFIC SEV-2014-0398 Projects is gratefully acknowledged. Pragati acknowledges financial support from the Ministry of Human Resource Development, Government of India.
Collections