Publication:
Estudio de las categorías de análisis de la imagen de marca en distritos culturales y creativos desde la Teoría Fundamentada de Glaser y Strauss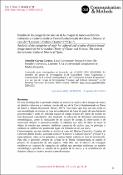 Authors
Advisors (or tutors)
Editors
Publisher
Raúl Eguizabal Maza (UCM)
Abstract
En esta investigación se pretende obtener un modelo de análisis de la imagen de marca en distritos culturales y creativos a través del uso de la Teoría Fundamentada en Datos de Glaser y Strauss (Grounded Theory, 1967). Esta teoría, que más que una teoría es una metodología de trabajo, se basa en la obtención de datos sin partir de unas hipótesis preconcebidas y suele ser utilizada cuando el cuerpo teórico del objeto de estudio no está demasiado consolidado. Así, mediante la aplicación de diferentes herramientas metodológicas, como la realización de un trabajo de campo, la observación o de entrevistas abiertas o semiestructuradas, se obtienen una serie de datos en torno al objeto de estudio que permiten establecer categorías de análisis que, en principio y mediante la codificación, pueden dar lugar a la formulación de una teoría. Concretamente, en este estudio se analiza el caso del Distrito Cultural y Creativo de Leicester (Reino Unido), conocido como el "Leicester´s Cultural Quarter" ("CQart") y, especialmente, cómo se ha generado su marca distrito cultural en aras de revitalizarlo. Para ello, y partiendo siempre de la base de la Teoría Fundamentada, se analiza el proceso de recuperación de este espacio. Todo ello, con el objetivo de conseguir establecer un conjunto de categorías de análisis que permitan conformar un modelo metodológico aplicable al estudio de la gestión de la marca y la revitalización de distritos cultural y creativo en otros casos de estudio.
This research aims to obtain a model for the analysis of brand imagen in cultural and creative districts through the use of the Grounded Theory, from Glaser and Strauss (Grounded Theory, 1967). This theory -which, rather than a theory, actually is a research methodology- is based on obtaining data without starting from any preconceived hypotheses; and is mostly used when the theoretical body of the object of study is still not too consolidated. This way, through the application of different methodological tools, such as fieldwork, observation or open or semi-structured interviews, a series of data is obtained regarding the object of study. This data allows establishing categories of analysis that, in principle and by coding, can lead to the formulation of a theory. Specifically, the present study analyses the case of the Leicester Cultural and Creative District (United Kingdom), known as the Leicester's Cultural Quarter ("CQart"). It especially focuses on how its cultural-district brand has been generated in order to revitalize the district. To study this -always from the basis of the Grounded Theory- the recovery process of this space has been analysed. All of this has been done with the aim of establishing a set of analysis categories that allow the creation of a methodological model applicable to the study of brand management and the revitalization of cultural and creative districts in other cases of study.
Collections