Publication:
Uso de geolocalización y de fuentes de datos abiertas para la creación de servicios turísticos por la ciudad de Madrid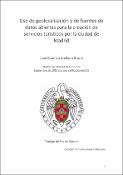 Authors
Advisors (or tutors)
Editors
Abstract
Este proyecto constituye el Trabajo de Fin de Máster de Juan Bautista Arellano Bruno, alumno del Máster de Internet De Las Cosas de la Universidad Complutense de Madrid. El objetivo del proyecto es aprovechar la geolocalización de los móviles y las fuentes de datos abiertas para crear servicios de valor añadido orientadas hacia las visitas turísticas en la ciudad de Madrid. En este sentido, las fuentes de datos abiertos se usan para recuperar elementos de interés cultural en la ciudad de Madrid tales como museos, monumentos o parques. Como principal resultado del proyecto, se ha desarrollado una aplicación Android capaz de recuperar información sobre elementos de interés cultural de la ciudad de Madrid y mostrar aquellos elementos que se encuentran dentro de una determinada distancia desde la posición en la que se encuentra en un momento dado el usuario. Así mismo, la aplicación hace uso de la API de la EMT de Madrid para poder buscar rutas, bien sea andando o usando el transporte público, hasta los elementos de interés cultural desde la ubicación del usuario.
This project constitutes the Master's Final Project by Juan Bautista Arellano Bruno, student of the Internet Master's Degree in Internet Of Things at the Complutense University of Madrid. The objective of the project is to take advantage of the geolocation of mobile phones and open data sources to create value-added services oriented towards tourist visits in the city of Madrid. In this sense, open data sources are used to recover elements of cultural interest in the city of Madrid such as museums, monuments or parks. As the main result of the project, an Android application has been developed capable of recovering information on elements of cultural interest of the city of Madrid and showing those elements that are within a certain distance from the position in which it is at a given time the user. Likewise, the application makes use of the EMT API of Madrid to be able to search for routes, either walking or using public transport, to the elements of cultural interest from the user's location.
Description
Trabajo de Fin de Máster, Universidad Complutense, Facultad de Informática, Departamento de Sistemas Informáticos y Computación, Curso 2018/2019