Publication:
Un simulador ludificado de instructor de vuelo para practicar el entrenamiento basado en evidencia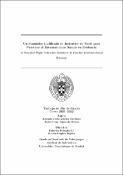 Editors
Abstract
Hoy en día, el factor humano es una de las causas contribuyentes a la mayoría de accidentes aéreos. Es por ello que durante los últimos años se ha estado haciendo más énfasis en mejorar el entrenamiento que reciben los pilotos. Para ello, desde la industria aeronáutica se está impulsando un nuevo paradigma que recopila datos e integra información sobre el rendimiento de los pilotos en todas las competencias necesarias, tanto técnicas como no técnicas. A este paradigma se le conoce como Entrenamiento Basado en Evidencia. Los simuladores de vuelo son una herramienta fundamental en la formación de un piloto. En un simulador el piloto se enfrenta a escenarios especialmente diseñados por un instructor para probar a fondo sus competencias. Para evaluar las competencias basándose en la evidencia, el instructor trata de percibir e identificar correctamente unos determinados Comportamientos Observables que pueden darse o no en el piloto. La evaluación de las competencias no técnicas podría resultar imprecisa y demasiado subjetiva si el instructor no está bien formado para realizar esta identificación. Este trabajo presenta la producción de un simulador ludificado, sencillo e intuitivo, del trabajo de un instructor de vuelo, con el objetivo de que estos profesionales se familiaricen con ese trabajo de reconocimiento de comportamientos en los pilotos. Los objetivos establecidos en el proyecto finalizaron en la elaboración de un prototipo jugable denominado como Flight Instructor Simulator. Además, se realizaron pruebas con instructores reales de vuelo para comprobar su eficacia. El código fuente del prototipo se haya en un repositorio público en GitHub. Para llevar a cabo la elaboración del proyecto, se investigaron diferentes juegos serios basados en la enseñanza y se mantuvieron charlas con expertos en la instrucción de pilotos. Después de hacer bocetos y un primer prototipo sin interfaz gráfica, el siguiente paso fue trabajar en la elaboración del prototipo y probarlo de manera presencial con instructores de pilotos reales.
Nowadays, the human factor is one of the contributing causes of most air accidents. That is why in recent years more emphasis has been placed on improving the training pilots receive. To this end, the aviation industry is promoting a new paradigm that collects data and integrates information on pilot performance in all necessary competencies, both technical and non-technical. This paradigm is known as Evidence Based Training. Flight simulators are a fundamental tool in pilot training. In a simulator the pilot is confronted with specially designed scenarios designed by an instructor to thoroughly test their competencies. In order to assess the com petencies based on evidence, the instructor tries to perceive and correctly identify certain Observational Behaviours that may or may not be present in the pilot. The assessment of non-technical competencies could be inaccurate and too subjective if the instructor is not well trained to make this identification. This work presents the production of a simple and intuitive gamified simu lator of the work of a flight instructor, with the aim of familiarising these professionals with the work of recognising behaviour in pilots. The objectives set out in the project resulted in the development of a playable prototype named Flight Instructor Simulator. In addition, tests were carried out with real flight instructors to check its effectiveness. The source code of the prototype is in a public repository on GitHub. For the development of the project, research was carried out on different serious teaching-based games and discussions were held with experts in pilot training. After sketches and a first prototype without graphical interface, the next step was to work on the development of the prototype and to test it in person with real pilot instructors.
Description
Trabajo de Fin de Grado en Desarrollo de Videojuegos, Facultad de Informática UCM, Departamento de Ingeniería del Software e Inteligencia Artificial, Curso 2021/2022. El proyecto puede encontrarse en: https://github.com/Narratech/TFGCruz-Guerra