Publication:
Plataformas bioelectroanalíticas con potencial de multiplexado y multi-ómico para medicina de precisión en el punto de atención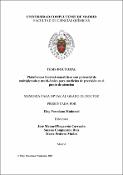 Files
Authors
Advisors (or tutors)
Editors
Publisher
Universidad Complutense de Madrid
Abstract
Desde sus inicios, uno de los mayores desafíos de la humanidad ha sido su esfuerzo por curar las enfermedades que nos atacan y prolongar nuestras vidas. A pesar de la gran evolución de nuestros conocimientos en numerosas patologías, y del desarrollo de tecnologías y métodos capaces de identificarlas, su diagnóstico normalmente en estadios avanzados conlleva a pronósticos desalentadores debido a la imposibilidad de aplicar a tiempo tratamientos oportunos y de calidad. Por tanto, la sociedad reclama enérgicamente la búsqueda de nuevas dianas clínicas para el diagnóstico temprano de enfermedades y el desarrollo de nuevas metodologías que permitan tanto su validación clínica como su determinación simple, rápida y asequible. En este sentido, esta Tesis Doctoral se ha centrado en el diseño, optimización y desarrollo de novedosas herramientas de biosensado electroquímico para la detección de biomarcadores asociados con la aparición y desarrollo de enfermedades de elevada prevalencia y mortalidad como la diabetes, los desórdenes neurodegenerativos y el cáncer. Además, gracias a las características y ventajas que presentan, en comparación con las metodologías actualmente disponibles, las bioplataformas que se han desarrollado siguiendo este objetivo permiten el análisis multiplexado fiable, sencillo, rápido y no invasivo de múltiples dianas, incluso a diferentes niveles ómicos para conseguir un diagnóstico más preciso y una caracterización molecular más completa de la enfermedad, todo ello enfocado al desarrollo de una medicina personalizada que permita la aplicación de los tratamientos más adecuados y efectivos en cada caso particular...
Since ancient times, one of the greatest challenges of mankind has been its effort to cure the diseases that attack us and to prolong our lives. Despite the great evolution of our knowledge in numerous pathologies, and the development of technologies and methods capable of diagnosing them, their diagnosis usually occurring in advanced stages leads to discouraging prognoses due to the impossibility of applying timely and quality treatments intime. Therefore, society strongly demands the search for new clinical targets for the early diagnosis of diseases and the development of new methodologies that allow both their clinical validation and their simple, rapid, and affordable determination. In this sense, this PhD Thesis has focused on the design and development of novel electrochemical biosensing tools for the detection of biomarkers associated with the onset and development of diseases of high prevalence and mortality such as diabetes,neurodegenerative disorders, and cancer. Moreover, thanks to the characteristics and advantages they present, compared to currently available methodologies, these bioplatforms allow reliable, simple, fast and non-invasive multiplexed analysis of multiple targets, even at different omic levels to achieve a more accurate diagnosis and a more complete molecular characterization of the disease, all focused on the development of a personalized medicine that allows the application of the most appropriate and effective treatments in each particular case...
Description
Tesis inédita de la Universidad Complutense de Madrid, Facultad de Ciencias Químicas, Departamento de Química Analítica, leída el 20-12-2021
Collections