Publication:
Spatial memory based on an STDP driven neural network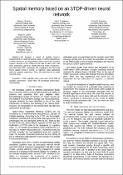 Advisors (or tutors)
Editors
Abstract
We propose a model of spatial memory implemented in a Spiking Neural Network (SNN) and test it on a robot moving in an environment with neutral and harmful regions. Neurons in the SNN play the role of place cells, and their population dynamics determines the robot movements. We show that STDP rearranges the couplings in the SNN and forms spatial memory similar to cognitive maps associated with the negative experience. Then, the robot learns to avoid harmful zones.