Publication:
El grupo Shangai y el exotismo en la novela argentina de las dos últimas décadas del siglo XX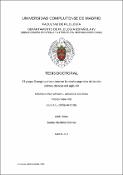 Files
Authors
Advisors (or tutors)
Editors
Publisher
Universidad Complutense de Madrid
Abstract
En la Argentina de las dos últimas décadas del siglo XX, distintos autores apartan su mirada de la realidad social más reciente para reconducirla hacia otros temas más cercanos a la ficción; de tal manera que encuadran sus novelas en siglos anteriores, como la pampa argentina del siglo XIX, o las trasladan a lugares alejados de Argentina, a Extremo Oriente principalmente. El resultado es un extrañamiento tanto de tiempos como de espacios que hace pensar en el exotismo como la característica principal de las novelas de estos años. Para mostrar este propósito, se analiza una selección de novelas que van desde 1981, año en el que César Aira publica Ema, la cautiva, a 2000, año de la publicación de Un episodio en la vida de un pintor viajero del mismo autor. El nombre de César Aira aparece una y otra vez en estas páginas como novelista y como ensayista que reflexiona acerca del tema objeto de estudio de este trabajo: el exotismo. Pero también se incluyen las novelas de otros autores como Juan José Saer, Rodolfo Rabanal, Osvaldo Soriano, Copi o Alberto Laiseca; además de las obras de algunos de los miembros del grupo Shangai, que nace en 1987 como parodia de los grupos literarios y que tuvo continuidad en la revista Babel...
In Argentina, during the last two decades of the twentieth century, a group of authors look away from recent social realities to redirect their vision toward other topics closer to fiction. In this way, they set their novels in earlier centuries; in the argentine "pampa" of the XIXth century or they move them to places far away from Argentina, to the far orient primarily. The result is an estrangement both in time and space that portrays exoticism as the main characteristic of the novels of those years. To illustrate this, a series of novels are analyzed beginning in 1981, the year in which César Aira published Ema, la Cautiva and reaching the year 2000, when Un episodio en la vida de un pintor viajero, was published by the same author. The name of César Aira appears over and over throughout these pages both as a novelist and essayist who reflects on the topic of exoticism: object of study of this paper. Novels by other authors are also included, writers such as Juan José Saer, Rodolfo Rabanal, Osvaldo Soriano, Copi or Alberto Laiseca, as well as the works of members of the Shanghai group, founded in 1987, as a parody of the literary groups which later had its continuity in the magazine Babel...
Description
Tesis inédita de la Universidad Complutense de Madrid, Facultad de Filología, Departamento de Filología Española IV (Bibliografía Española y Literatura Hispanoamericana), leída el 06/11/2015
Collections