Publication:
Identificación de reductasas de ácidos hidroxicinámicos y sus derivados en "Lactobacillus plantarum" WCFS1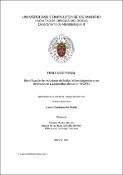 Files
Authors
Advisors (or tutors)
Editors
Publisher
Universidad Complutense de Madrid
Abstract
Los ácidos fenólicos constituyen aproximadamente un tercio de los compuestos fenólicos de la dieta y están asociados con propiedades organolépticas, nutricionales y antioxidantes de los alimentos. El término "ácido fenólico" incluye compuestos que poseen al menos un grupo hidroxilo y un ácido carboxílico como grupo funcional. Los ácidos fenólicos presentes en la naturaleza se pueden dividir en dos grupos en función de su estructura: los ácidos hidroxicinámicos y los ácidos hidroxibenzoicos, siendo más comunes los primeros. Los ácidos hidroxicinámicos incluyen fundamentalmente a los ácidos p-cumarico, cafeico, ferúlico y sinápico. Lactobacillus plantarum es la especie de bacteria láctica que más frecuentemente se aísla de fermentaciones de alimentos de origen vegetal en los que los ácidos hidroxicinámicos son abundantes. En L. plantarum, el metabolismo de estos ácidos puede seguir dos rutas diferentes. Por un lado, los ácidos hidroxicinámicos pueden reducirse directamente a sus correspondientes ácidos fenilpropiónicos sustituidos mediante la acción de una reductasa; la otra ruta implica la acción secuencial de dos enzimas, en primer lugar una descarboxilasa que descarboxila el ácido a su vinil derivado y posteriormente una reductasa que lo reduce a su correspondiente etil derivado. De todas las enzimas implicadas en la transformación de ácidos hidroxicinámicos en L. plantarum, hasta el momento actual, tan solo se ha descrito a nivel genético y molecular la descarboxilasa Lp_3665, mientras que las reductasas implicadas en ambas rutas se desconocen tanto a nivel enzimático como genético...
Phenolic acids account for almost one third of the dietary phenols and are associated with organoleptic, nutritional and antioxidant properties of foods. Phenolic acids include phenols that possess one carboxylic acid functional group. The naturally occurring phenolic acids contain two distinguishing constitutive carbon frameworks, the hydroxycinnamic and hydroxybenzoic structures. The hydroxycinnamic acids are more common than are hydroxybenzoic acids and mainly included coumaric, caffeic, ferulic and sinapic acids. Lactobacillus plantarum is a lactic acid bacterial species that is most frequently encountered in the fermentation of plant materials where hydroxycinammic acids are abundant. The metabolism of hydroxycinnamic acids on L. plantarum has been recently described and could follow two simultaneous pathways. Hydroxycinnamic acids could be directly reduced to their corresponding substituted phenyl propionic acids by a still unknown reductase enzyme. Alternatively, the second pathway implies that hydroxycinnamic acids are decarboxylated into their vinyl phenol derivatives, and then, by an unknown reductase, are subsequently reduced to their corresponding ethyl derivatives. The decarboxylation step is catalyzed by the phenolic acid decarboxylase Lp_3665 enzyme. However, the reductase enzymes involved in the metabolism of hydroxyxcinnamic acids have not been genetically or biochemically characterized so far...
Description
Tesis inédita de la Universidad Complutense de Madrid, Facultad de Ciencias Biológicas, Departamento de Microbiología III, leída el 16-06-2017
Collections