Publication:
The subtraction of mutually displaced Gaussian Schell-model beams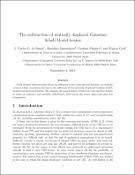 Authors
González de Sande, Juan Carlos
Advisors (or tutors)
Editors
Abstract
Using recently derived results about the difference of two cross-spectral densities, we consider a source whose correlation function is the difference of two mutually displaced Gaussian Schell-model cross-spectral densities. We examine the main features of this new cross-spectral density in terms of coherence and intensity distribution, both across the source plane and after free propagation.
Description
© 2015 IOP Publishing Ltd. This work has been partially supported by the Spanish Ministerio de Economia y Competitividad under project FIS2013-46475.
Citation
[1] Wolf E 2007 Introduction to the Theory of Coherence and Polarization of Light (Cambridge U. Press, Cambridge) [2] Mandel L and Wolf E 1995 Optical Coherence and Quantum Optics (Cambridge U. Press, Cambridge) [3] Gbur G and Visser T D 2010 Progress in Optics 55. 285-311 (Ed. E. Wolf, Elsevier,Amsterdam) [4] Li Y, Guo J, Liu L, Wang T and Shao J 2013 Linear equations method for modal decomposition using intensity information J. Opt. Soc. Am. A 30 2502-2509 [5] Zhu S, Chen Y and Cai Y 2013 Experimental determination of the radius of curvature of an isotropic Gaussian Schell-model beam J. Opt. Soc. Am. A 30 171-176 [6] Singh M, Tervo J and Turunen J 2013 Elementary-field analysis of partially coherent beam shaping J. Opt. Soc. Am. A 30 2611-2617 [7] Huang Y and Zhang B 2013 Turbulence distance for laser beams propagating through non-Kolmogorov turbulence J. Opt. Soc. Am. A 30 2339-2346 [8] Alieva T, Rodrigo J A, Cámara A and Abramochkin E 2013 Partially coherent stable and spiral beams J. Opt. Soc. Am. A 30 2237-2243 [9] Yamazoe K, Mochi I and Goldberg K A 2014 Gradient descent algorithm applied to wavefront retrieval from through-focus images by an extreme ultraviolet microscope with partially coherent source J. Opt. Soc. Am. A 31 B34-B43 [10] Cai Y, Chen Y and Wang F 2014 Generation and propagation of partially coherent beams with nonconventional correlation functions: a review [Invited] J. Opt. Soc. Am. A 31 2083-2096 [11] Gbur G 2014 Partially coherent beam propagation in atmospheric turbulence [Invited] J. Opt. Soc. Am. A 31 2038-2045 [12] Martínez-Herrero R, Mejías P M and Piquero G 2009 Characterization of partially polarized light fields (Springer Series in Optical Sciences, 147, Springer-Verlag, Berlin) [13] de Sande J C G, Santarsiero M, Piquero G and Gori F 2012 Longitudinal polarization periodicity of unpolarized light passing through a double wedge depolarizer Opt. Express 20 27348-27360 [14] Lahiri M and Wolf E 2013 Change in spatial coherence of light on refraction and on reection J. Opt. Soc. Am. A 30 1107-1112 [15] Lahiri M and Wolf E 2013 Propagation of electromagnetic beams of any state of spatial coherence and polarization through multilayered stratified media J. Opt. Soc. Am. A 30 2547-2555 [16] Yuan Y, Du S, Dong Y, Wang F, Zhao C and Cai Y 2013 Nonparaxial propagation properties of a vector partially coherent dark hollow beam J. Opt. Soc. Am. A 30 1358-1372 [17] Raghunathan S B, Schouten H F and Visser T D 2013 Topological reactions of correlation functions in partially coherent electromagnetic beams J. Opt. Soc. Am. A 30 582-588 [18] Shu J, Chen Z and Pu J 2013 Radiation forces on a Rayleigh particle by highly focused partially coherent and radially polarized vortex beams J. Opt. Soc. Am. A 30 916-922 [19] Santarsiero M, de Sande J C G, Piquero G and Gori Franco 2013 Coherence-polarization properties of fields radiated from transversely periodic electromagnetic sources J. Opt. 15 055701 [20] Craeye C, Withington S and Thomas C N 2014 Characteristic functions describing the power absorption response of periodic structures to partially coherent fields J. Opt. Soc. Am. A 31 1360-1368 [21] de Sande J C G, Piquero G, Santarsiero M and Gori F 2014 Partially coherent electromagnetic beams propagating through double-wedge depolarizers J. Opt. 16 035708 [22] Fernández-Pousa C R 2013 Nonstationary elementary-field light randomly triggered by Poisson impulses J. Opt. Soc. Am. A 30 932-940 [23] Voipio T, Setl T and Friberg A T 2013 Partial polarization theory of pulsed optical beams J. Opt. Soc. Am. A 30 71-81 [24] Voipio T, Setl T and Friberg A T 2013 Coherent-mode representation of partially polarized pulsed electromagnetic beams J. Opt. Soc. Am. A, 30, 2433-2443 [25] Mokhtarpour L and Ponomarenko S A 2013 Ultrashort pulse coherence properties in coherent linear amplifiers J. Opt. Soc. Am. A 30 627-630 [26] Dutta R, Korhonen M, Friberg A T, Genty G and Turunen J 2014 Broadband spatiotemporal Gaussian Schell-model pulse trains J. Opt. Soc. Am. A 31 637-643 [27] Riesz F and Nagy B S 1956 Functional Analysis (Blackie and Sons, London) [28] Gori F and Santarsiero M 2007 Devising genuine spatial correlation functions Opt. Lett. 32 3531-3533 [29] Martínez-Herrero R, Mejías P M and Gori F 2009 Genuine cross-spectral densities and pseudo-modal expansions Opt. Lett. 34 1399-1401 [30] Sahin and Korotkova O 2012 Light sources generating far fields with tunable at profiles Opt. Lett. 37 2970-2972 [31] Korotkova O, Sahin S and Shchepakina E 2012 Multi-Gaussian Schell-model beams J. Opt. Soc. Am. A 29 2159-2164 [32] Cang J, Fang X and Liu X 2013 Propagation properties of multi-Gaussian Schell-model beams through ABCD optical systems and in atmospheric turbulence Optics & Laser Technology 50, 65-70 [33] Santarsiero M, Piquero G, de Sande J C G and Gori F 2014 Diference of cross-spectral densities Opt. Lett. 39, 1713-1716 (2014). [34] Gori F and Santarsiero M 2014 Diference of two Gaussian Schell-model cross-spectral densities Opt. Lett. 39 2731-2734 [35] Borghi R, Gori F, Guattari G and Santarsiero M 2015 Shape-invariant diference between two Gaussian Schell-model beams J. Opt. Soc. Am. A 32 790-796 [36] Gori F 1983 Mode propagation of the field generated by Collett-Wolf Schell-model sources Opt. Commun. 46 149-154 [37] Goodman J W 2005 Introduction to Fourier optics, 3rd Ed. (Roberts & Company, Englewood) [38] Gori F 1980 Collett- Wolf sources and multimode lasers Opt. Commun. 34 301-305 [39] Gbur G and Wolf E 2001 The Rayleigh range of Gaussian Schell-model beams J. Modern Opt. 48 1735-1741
Collections