Publication:
Asistente virtual (Chatbot) para la web de la Facultad de Informática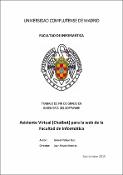 Authors
Advisors (or tutors)
Editors
Abstract
El proyecto tiene como objetivo implementar un asistente virtual o chatbot que permita facilitar la búsqueda de direcciones para un usuario que se conecta a la web de la facultad de informática de la Universidad Complutense de Madrid. Un chatbot es un derivado de un buscador tradicional, que no sólo es capaz de encontrar una url a partir de las palabras de entrada, sino que es capaz de responder como si de una persona física se tratase, así como de reconocer oraciones completas, extraer la información necesaria y poder proporcionar una respuesta también en lenguaje natural. Para ello, se hace uso del lenguaje de programación AIML, así como de una base de datos, que son capaces de reconocer patrones de entrada, para mostrar una salida coherente en lenguaje humano, y en caso de no encontrar un patrón de entrada, utilizar un repositorio de urls indexadas para devolver las que más se ajusten.
The project aims to implement a virtual assistant or chatbot which can facilitate address search for a user connects to the web of the Faculty of Information Technology at the Complutense University in Madrid. A chatbot is a derivative of a traditional search engine, which is not only able to find a url from the input words, it is able to respond as if it were a natural person, and to recognize complete sentences, extract the necessary information and also to provide an answer in natural language. To do this, use the programming language AIML is made, as well as a database, you are able to recognize input patterns to show a consistent output in human language, and if not find a pattern of input, use a repository of urls indexed to return the most suited.
Description
Trabajo de Fin de Grado en Ingeniería del Software (Universidad Complutense, Facultad de Informática, curso 2014/2015)