Publication:
La figure de l'artiste dans la littérature française ultra contemporaine : de l'analyse thématique vers le portrait de l'homme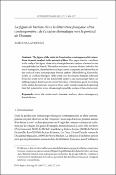 Authors
Advisors (or tutors)
Editors
Publisher
University of Tartu Press
Abstract
This paper aims to contribute to the study of the figure of the artist through thematic analysis of several recent texts published in French. The author examines the main themes linked to the artist-protagonist, classifies them in hypernymic categories and shows that in the works of some contemporary French authors (Houellebecq, Grainville, Gailly, Le Guillou) the figure of the artist loses its romantic features, inherited from the artist novel of the nineteenth century and increasingly takes on anthropological dimensions to convey the values of the human quest. According to the author, hermeneutic interest in these works should consist in deciphering their full potential in terms of meaning beyond the surface of the artist novels.
Collections