Publication:
Leemos y escribimos en las lenguas de la escuela. Competencias y estrategias, lectura y escritura en español e inglés: Memoria final del proyecto de Aprendizaje-Servicio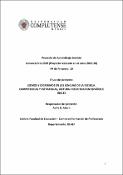 Authors
Advisors (or tutors)
Editors
Abstract
Este proyecto de alfabetización bilingüe por Aprendizaje-Servicio, financiado por la Unidad de Diversidad de la UCM, se llevó a cabo durante el curso 2019-20. Ante el reto de formarse para la alfabetización en el contexto de la desigualdad educativa que actualmente existe en la Comunidad de Madrid, en la cual existen centros escolares con altas proporciones de alumnado en riesgo de dificultad educativa, el proyecto brinda oportunidades para que el estudiantado del Grado de Magisterio se forme en un modelo de eficacia demostrada para la enseñanza de la lectura y escritura, el modelo Reading to Learn / Leer para Aprender, y lo ponga en práctica para apoyar al alumnado en colegios clasificados como 'de difícil desempeño'. El proyecto ha supuesto la creación de una comunidad de aprendizaje en la que participan profesores universitarios, estudiantes de Magisterio así como profesores y alumnado de dos colegios de educación infantil y primaria. Durante los meses de noviembre 2019 a marzo 2020, se impartieron unas 80 sesiones de aula en las que los universitarios guiaron al alumnado de entre 5 y 12 años a reforzar su comprensión lectora y escritura en español y en inglés. El proyecto ha supuesto el fortalecimiento de de las relaciones universidad-sociedad y ha dado lugar a una colaboración que perdura en el tiempo entre la Facultad de Educación - Centro de Formación del Profesorado y los colegios implicados.
This service-learning for bilingual literacy project, funded by the UCM (Unidad de Diversidad), was carried out during the 2019-20 academic year. Faced with the challenge of preparing pre-service teachers for literacy instruction in the context of educational inequality that currently exists in the Community of Madrid, in which there are schools with high proportions of students at risk of educational difficulty, the project provides opportunities for the students of the Bachelor in Education to receive specialised training in an evidence-based approach for teaching reading and writing, Reading to Learn, and put it into practice to support students at inner-city schools facing major challenges. The project has entailed the creation of a learning community in which university professors, students of education, teachers and students from two schools of infant and primary education participate. During the months of November 2019 to March 2020, about 80 classroom sessions were taught, in which the university students guided the students between 5 and 12 years of age to reinforce their reading comprehension and writing in Spanish and English. The project has led to the strengthening of university outreach efforts, and has given rise to lasting collaboration between the Faculty of Education - Teacher Training Center and the schools involved.
Collections