Publication:
Sujetos Cíborg para una coalición contracultural: promesas teóricas y resultados prácticos en la cultura popular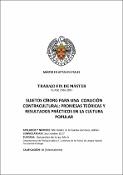 Advisors (or tutors)
Editors
Abstract
Se abordan las confluencias dentro de distintas ramas de la teoría crítica a la hora de apropiarse de conceptos e imágenes posthumanistas para articular un activismo basado en identificaciones, préstamos y alianzas. Para ello, se utiliza la teoría feminista, la teoría "queer" y los estudios de la memoria, recurriendo a los textos de Donna Haraway, Judith Butler, Eve Kosofsky Sedgwick, Alison Landsberg y Charles R. Garoian, entre otros. Esta propuesta teórica se enuncia como reacción tanto a la ideología hegemónica que se percibe en la corriente dominante de la cibercultura, como a las políticas de la identidad basadas en un modelo de identidad auto-contenida. En una segunda parte del trabajo, se aplican estas teorías a un corpus de tres obras pertenecientes a la cultura popular contemporánea: la novela cyberpunk "He, She and It" de Marge Piercy, el webcómic "Always Human" de Ari, y la serie de Netflix "Sense8" de Lana y Lily Wachowski y J. Michael Straczynski. Estas tres obras se construyen sobre la relación romántica/sexual como vehículo para expresar alianzas cíborg. Esta implementación ayuda a localizar las ventajas y debilidades de la propuesta teórica, al mismo tiempo que evidencia el potencial de la ficción popular para aportar nuevas ideas. Como conclusión, se problematiza el eje romántico/sexual sobre el que se basen los casos de estudio al proponer una revolución de las redes afectivas.
The confluences between different branches within critical theory are approached concerning the appropriation of posthumanist concepts and images in order to articulate an activism based on identifications, loans and alliances. To that end, it is used feminist theory, queer theory, and memory studies, having recourse to the texts of Donna Haraway, Judith Butler, Eve Kosofsky Sedgewick, Alison Landsberg and Charles R. Garoian, among others. This theoretical proposal is enunciated as a reaction to the hegemonic ideology that it is perceived in the dominant current of cyberculture, as well as to the identity politics based in a model of self-contained identity. In a second part of this paper, these theories are applied to a corpus of three works belonging to contemporary popular culture: the cyberpunk novel "He, She and It" by Marge Piercy, the webcomic "Always Human" by Ari, and the Netflix' series "Sense8" by Lana and Lily Wachowski and J. Michael Straczynski. These three works are constructed upon romantic/sexual relation as vehicle to express cyborg alliances. This implementation helps localizing the advantages and weaknesses of the theoretical proposal, at the same time as it shows the potential of popular fiction to contribute with new ideas. As a conclusión, the romantic/sexual axis on which the case studies are based is problematized by proposing a revolution on affective networks.