Publication:
Efectos indirectos de la infección por citomegalovirus en una cohorte de receptores de trasplante renal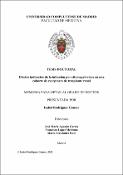 Files
Authors
Advisors (or tutors)
Editors
Publisher
Universidad Complutense de Madrid
Abstract
El citomegalovirus (CMV) es un miembro de la familia Herpesviridae. Tras la primoinfección, el CMV permanece latente en las células del huésped pudiendo reactivarse en ciertas situaciones de inmunosupresión como ocurre tras el trasplante de órgano sólido (TOS). En estos pacientes, el CMV produce un daño tisular directo que puede manifestarse en forma de enfermedad clínica sintomática. Además, la infección por CMV en receptores de TOS se ha asociado con la aparición de una serie de fenómenos de modulación inmune comúnmente denominados "efectos indirectos" que resultan de la interacción del virus con el sistema inmune del huésped y de la inflamación tisular asociada. En el receptor de trasplante renal (TR) se ha descrito, en relación con la exposición previa a la infección por CMV, un incremento de la incidencia de infecciones causadas por otros microorganismos, de viremia y nefropatía asociada al poliomavirus BK, y de eventos atero-trombóticos...
Cytomegalovirus (CMV) is a member of the Herpesviridae family. After primoinfection, CMV can remain in host cells and reactivate in certain situations of immunosuppression, with solid organ transplantation (SOT) as one of the most common scenarios. In these patients, CMV may cause a direct tissue injury in the form of symptomatic clinical disease. However, CMV infection in SOT recipients has been also associated with the development of immunomodulatory phenomena (the so-called "indirect effects") that result from the interaction of the virus with the host's immune system and the associated tissue inflammation. In kidney transplant (KT) recipients previously exposed to CMV there has been described an increased risk of post-transplant non-CMV infection, BK polyomavirus infection and associated nephropathy, and post-transplant atherosclerotic (PAE) and thrombotic (PTE) events...
Description
Tesis inédita de la Universidad Complutense de Madrid, Facultad de Medicina, leída el 09-05-2022
Collections