Publication:
Pacto de silencio: análisis de la información en los medios de comunicación españoles durante el secuestro de periodistas en Siria por parte de grupos terroristas yihadistas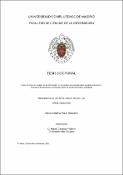 Files
Authors
Editors
Publisher
Universidad Complutense de Madrid
Abstract
La Primavera Árabe de 2011 se tradujo en revoluciones en un gran número de países en Oriente Medio, en los que la sociedad civil se movilizó para terminar con la dictadura e instaurar una democracia. Con el paso del tiempo, las manifestaciones más o menos pacíficas, revueltas, protestas y represiones violentas se fueron diluyendo en bastantes países, excepto en Siria. El régimen sirio, las facciones rebeldes, los peshmerga kurdos y los grupos yihadistas han sido las distintas facciones en las que se ha segmentado el país durante la guerra civil. La destrucción de Siria a nivel económico, político y social es una realidad que perdura a día de hoy. Los yihadistas aprovecharon el vacío de poder y el caos para irrumpir en el país. Dicha incursión terrorista a su vez fue utilizada por las potencias internacionales para intervenir en Siria. Esto ha servido de excusa a los grupos terroristas islámicos para perseguir a los periodistas de distintas nacionalidades, entre ellos españoles, que se encontraban allí cubriendo el conflicto, atacando así a uno de los derechos fundamentales de todas las sociedades: el derecho a la información. Les han secuestrado, les han torturado e incluso a algunos les han ejecutado...
The Arab Spring of 2011 resulted in revolutions in a large number of countries in the Middle East, where civil society mobilized to end dictatorship and establish democracy. As time went by, the somewhat peaceful demonstrations, revolts, protests and violent repressions faded away in quite a few countries, except in Syria. The Syrian regime, rebel factions, Kurdish Peshmerga and jihadist groups have been the different factions into which the country has been segmented during the civil war. The destruction of Syria at the economic, political and social levels is a reality that endures to this day. Jihadists took advantage of the power vacuum and chaos to break into the country. This terrorist incursion in turn was used by international powers to intervene in Syria. This has served as an excuse for Islamic terrorist groups to prosecute journalists of different nationalities, including Spaniards, who were there covering the conflict, thus attacking one of the fundamental rights of all societies: the right to information. They have been kidnapped, tortured and some have even been executed...
Description
Tesis inédita de la Universidad Complutense de Madrid, Facultad de Ciencias de la Información, leída el 03/03/2023
Collections