Publication:
Ansiedad, parto y género: estudio longitudinal del valor predictivo de la ansiedad sobre el parto analizado desde la perspectiva de género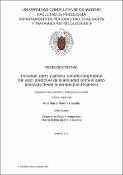 Files
Authors
Advisors (or tutors)
Editors
Publisher
Universidad Complutense de Madrid
Abstract
La idea de preocupación, ansiedad y miedo aparece continuamente relacionada con el concepto cultural de maternidad. Asociar la maternidad a estas emociones implica entender tanto el embarazo como el parto como un proceso fisiológico marcado por la cultura, donde las causas podrían ser distintas para cada sociedad en concreto. Es decir, las mujeres son las personas que tiene la capacidad para parir dentro de una cultura determinada, y como tal, su cuerpo no solo responderá a estímulos puramente biológicos sino también a procesos psicológicos propios y unas normas sociales consensuadas históricamente dentro de un contexto cultural que obedece a patrones concretos. Desde la perspectiva de Género, el fenómeno de la maternidad (embarazo, parto y puerperio), constituye una experiencia vital de gran carga emocional para las mujeres y debe ser estudiado incluyendo un enfoque no solo fisiológico, sino también psicológico y antropológico. Adicionalmente, parece que la ansiedad también tiene una influencia negativa sobre los resultados obstétricos, fetales y perinatales del parto, pero estas conclusiones suelen ser limitadas, existiendo una falta de consenso acerca de la función de la ansiedad en los resultados perinatales. Por lo tanto, con la presente tesis doctoral presenta una investigación que permite aproximarse a la situación real de las gestantes en cuanto a causas de ansiedad y preocupación en torno al parto, desde una perspectiva de Género. Para ello se ha realizado una conceptualización del término Ansiedad en el parto mediante un enfoque multidimensional donde se identifican los factores a considerar y se ha realizado un estudio estadístico en dos Áreas de Salud distintas para determinar el grado de influencia de estas variables en el desarrollo fisiológico del proceso de parto. A partir de las evidencias estadísticas obtenidas en la experimentación, se ofrece una discusión que analiza desde una perspectiva de género los resultados obtenidos respecto a los factores causantes de ansiedad en el parto. Como consecuencia de esta discusión y apoyándose en los resultados obtenidos, se plantean finalmente una serie de mejoras metodológicas en los protocolos actuales de Educación Prenatal de nuestro país. Estas propuestas también son validadas, mediante un protocolo que materializa las conclusiones obtenidas en una serie de actuaciones concretas. Este protocolo se ha implementado y evaluado con población real de gestantes en un hospital, demostrando la relevancia de los resultados descritos en el presente trabajo de tesis.
Concepts such as worry, anxiety and fear a permanently linked to the cultural concept of maternity. Understanding the relationship between maternity and these emotions implies the analysis of pregnancy not only as a physiological process but also as a cultural concept that may vary for each society. This is, women give birth within a concrete culture, and therefore, their bodies may react to both biological stimulus and social rules depending on their cultural context. From the gender point of view, maternity (pregnancy, delivery and puerperium) is a major experience for women that must be analyzed leaving aside the physiological process and taking into consideration a physiological and anthropological perspective. Additionally, there is certain evidence that the clinical results of the delivery process are negatively influenced by anxiety. Therefore, this Doctoral Thesis presents a research work that enables de understanding of those anxiety factors that have an impact in the maternity process from a gender perspective. To do so, the concept of anxiety has been defined through a multidimensional analysis where several associated factors have been identified. Then, an experimental evaluation has been performed in two separate health areas to determinate the impact of such factors in the physiological development of the delivery. The statistical significance of these factors is discussed from the point of view of the gender. After this discussion, and supported by the statistical results, this work proposes a set of improvements in the current protocols of maternal health education in Spain. This proposal is also validated by means of a concrete protocol that applies the conclusions previously obtained. This protocol has been implemented and evaluated with real population in a hospital, demonstrating the significance of the results presented in this Doctoral work.
Description
Tesis inédita de la Universidad Complutense de Madrid, Facultad de Psicología, Departamento de Personalidad, Evaluación y Tratamiento Psicológicos II, leída el 09/10/2017
Collections