Publication:
Lugares y emociones: de cómo hacer ganchillo con el territorio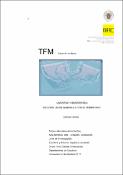 Authors
Advisors (or tutors)
Editors
Abstract
Este proyecto se articula en una red de intervenciones sobre un territorio específico, Mediano, con una historia singular de aniquilación y supervivencia, que lo ha configurado como un lugar fragmentado: por una parte, un pueblo borrado bajo un pantano del que tan sólo emerge la parte superior de la torre de iglesia y, por otra, unas cuantas casas dispersas de los vecinos que decidieron no marchar de su lugar de sentido. En este territorio marcado por la ausencia, donde la densidad de la memoria y de las emociones es de especial relevancia , y donde la falta de un lugar común que construya la identidad de pueblo indica todavía la precariedad de su subsistencia como colectivo, se crean tres intervenciones, a saber: dos propuestas de acción con objetos singulares para activar nuevas situaciones y experiencias: el carrito ultraligero cuya función es la de actuar de plaza móvil al poner en relación las vidas, memorias y proyectos de sus vecinos, y una segunda que recupera intermitentemente el lecho del antiguo pueblo como espacio de vida, a través de una mesa camilla de ganchillo que funciona como centro lúdico de producción cultural y de este modo otorga un valor de uso desde el presente a un territorio que hasta ahora sólo es recuerdo y vacío. A estas acciones que necesitan de la complicidad del contexto humano que atraviesan, se le suma una escultura que abre un lugar de encuentro desde su emplazamiento, en el que se conectan dos espacios y dos tiempos de Mediano hasta ahora discontinuos: un pasado sólo mutilado en relación a su patrimonio material y un presente que lucha por consolidar su legítima identidad como pueblo. [ABSTRACT]This project is articulated in a network of interventions on a specific territory, Mediano, which has formed it as a fragmented place: on one hand a small town erased under a reservoir, for other one, a few dispersed houses of the neighbors who decided not to go away from his place of sense. In this territory marked by the absence, where the density of the memory and of the emotions have an special relevancy, and where there is not a common place that constructs their identity , this project propose two actions with singular objects to activate new situations and experiences: an ultralight cart with a similar function than a mobile square because it put in relation the lives, memories and projects of his neighbors, and another one that happens in the old town place and change it as space of life around a crochet work table that works like a center of cultural production. To these interventions that they need the complicity of the human context that they cross, there adds a sculpture that opens a place of meeting from his emplacement that connects two spaces and two times of Mediano, till now discontinuous: a past only eliminated in his material heritage and a present that fights to consolidate his identity as a town.