Publication:
La identificación de los rusos con los rus': el caso de la película rusa "Vikingo" (2016) y de la sexta temporada de la serie "Vikingos" (2019-2020)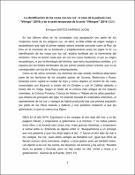 Authors
Advisors (or tutors)
Editors
Abstract
En los últimos años se ha constatado una apropiación por parte de los modernos rusos de los antiguos rus', es decir, la élite militar de origen varego o escandinavo que rigió el primer estado eslavo oriental conocido como la Rus' de Kíev en el momento de su fundación y establecimiento entre los siglos IX-XI. La identificación de los rusos con los rus' estaría facilitada por la homonimia del etnónimo, aunque no existe una continuidad histórica entre unos y otros. En este artículo analizaremos esta identificación tanto desde el interior de Rusia como desde el exterior, a través de una película rusa como "Vikingo" (2016) y una serie de producción anglosajona como es "Vikingos" en su sexta temporada (2019-2020).
In the last years we can observer an appropriation from modern Russians of old Rus', that is, the military elite of varangian or scandinavian origin that ruled the first East Slavic state known as Kievan Rus' during the 9th-11th centuries. The identification of Russians with Rus' is motivated by the homonymy of their ethnonyms, though it does not exist any historical continuity among them. In this paper we will analyze such identification both from the inside and from the outside, through a Russian movie such as "Viking" (2016) and an Anglo-Saxon TV series such as "Vikings" in its 6th season (2019-2020).