Publication:
Desarrollop galénico de nuevas formulaciones de anfotericina B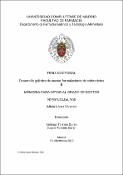 Files
Authors
Advisors (or tutors)
Editors
Publisher
Universidad Complutense de Madrid
Abstract
En los últimos años, las infecciones fúngicas invasivas (IFIs), en concreto las candidiasis, causan una elevada morbilidad y mortalidad tras la realización de trasplantes pulmonares. Por otro lado, diferentes especies de Aspergillus han emergido como una de las causas más importantes de mortalidad y morbilidad en pacientes inmunocomprometidos. El principal foco de infección de este tipo de infecciones fúngicas en humanos es el pulmón, con diseminación en otros órganos, a medida que la enfermedad progresa. Para un tratamiento eficaz de la aspergilosis pulmonar es necesario alcanzar elevadas concentraciones pulmonares de anfotericina B. Las bajas concentraciones pulmonares en las primeras 48 horas de la formulación liposomal de anfotericina B unido a sus altos costes, limitan su uso. Por otro lado, la formulación comercial dimérica deanfotericina B con desoxicolato sódico presenta menor eficacia y causa una elevada nefrotoxicidad. Debido a todo esto, es necesario encontrar nuevas formulaciones de anfotericina B, como son sistemas poliagregados deanfotericina B con desoxicolato sódico que garanticen mayor eficacia frente a agentes patógenos pulmonares...
In recent years, invasive fungal infections (IFIs), especially candidiasis, cause high morbidity and mortality after lung-transplant. On the other hand, different Aspergillus species have emerged as one of the main cause of mortality and morbidity in immunosuppressed patients. The initial site of most fungal infections in humans is primarily the lungs, with dissemination to other organs as the disease progresses. So, it is important to reach high initial pulmonary concentrations of amphotericin B (AmB) in order to get an effective treatment. The high costs of commercial lipid formulations and the low pulmonary concentrations reached during the first 48 hours, limit their use. On the other hand, the less expensive commercial dimeric sodium deoxycholateamphotericin B formulation has lower antifungal efficacy and causes serious nephrotoxicity. Due to these reasons, it is necessary to find out new amphotericin B formulations, such as poly-aggregated systems of amphotericinB with sodium deoxycholate (DCH), that guarantee greater efficacy and lower toxicity than commercial formulations...
Description
Tesis de la Universidad Complutense de Madrid, Facultad de Farmacia, Departamento de Farmacia Galénica y Tecnología Alimentaria, leída el 05-10-2018
Collections