Publication:
Oxfordian microbial laminites from La Manga Formation, Neuquén Basin, Argentina: Remarkable nanobacteria preservation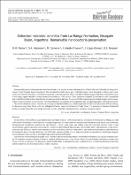 Advisors (or tutors)
Editors
Publisher
Universidad Complutense de Madrid
Abstract
Exceptionally preserved stromatolites have been found in the shallow marine carbonate facies of the Callovian-Oxfordian La Manga Formation, in the Neuquén Basin (Argentina). The stromatolites exhibit planar and crinkle lamination, often disrupted by sheet-cracks, mudcracks, and fenestral structures, which indicate periodic subaerial exposure. These and other evidences suggest that these stromatolites grew in low energy upper intertidal to lower supratidal environments. They consist of fine micrite/microsparite crystal fabrics (with a remarkable lack of allochems) that define submillimiter alternations of dense laminae. Extensive SEM examinations of polished samples of the stromatolites reveal exceptional preservation of rod-shaped bacteria, coccoid like microorganisms, and abundant aggregates of framboidal pyrite. The rod-like bacteria consists of a network of irregular distributed filaments, which range from 150 nm to an uncommon 640 nm in length; diameters range from 54 nm to 90 nm. Subspherical bodies range in size between 70 and 89 nm. The presence of abundant framboidal pyrites is interpreted as the result of the metabolic activity of sulfate–reducing bacteria and decay of organic matter.
Se describen estromatolitos excepcionalmente preservados en facies carbonáticas marinas someras en la Formación La Manga, de edad Calloviense-Oxfordiense, en la Cuenca de Neuquén (Argentina). Los estromatolitos muestran una laminación tanto planar como ondulada, frecuentemente alterada por estructuras de tipo fenestral, y sheet y mud-crack, que indican etapas de exposición subaérea. Estas y otras características sugieren que estos estromatolitos crecieron en ambientes de baja energía, intermareales altos y supramareales. Están constituidos por una fábrica de micrita-microesparita (con una destacada ausencia de aloquímicos) que constituyen alternancias submilimétricas de laminación densa. Estudios detallados con SEM sobre muestras pulidas revelan una preservación excepcional con morfología alargada, microorganismos tipo cocoide, y abundantes agregados de pirita framboidal. Las bacterias con morfologías alargadas están constituyendo una red irregularmente distribuida de filamentos que oscilan en tamaño desde 150 nm hasta, excepcionalmente, 640 nm en longitud; el diámetro oscila entre 50 nm y 90 nm. Las morfologías subesféricas oscilan entre 70 nm y 89 nm. La presencia de abundantes piritas framboidales es interpretada como resultado de una actividad metabólica de bacterias sulfato-reductoras y la descomposición de materia orgánica.
Collections