Publication:
Análisis de misión preliminar de un satélite CubeSat en órbita heliosíncrona para observación de la Tierra.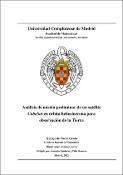 Authors
Advisors (or tutors)
Editors
Abstract
Throughout this paper, it will be described a preliminary mission analysis of a CubeSat nanosatellite to place it in a Sun-synchronous orbit, starting from its orbit collocation using the Ariane 5 launcher from a GTO (Geostationary Transfer Orbit) stationary orbit or the facilities of the ISS (International Space Station). At the beginning, the theory of impulsive maneuvers will be stated to be used later on to place the satellite in the desired final orbit. Hereunder, the characteristics of the Sun-synchronous orbit are described, this orbit keeps, on each satellite trace, the same orientation with regard to the Sun. Therefore, the perturbed motion of a satellite around the Earth's gravitational field will be analyzed, and Lagrange's equations will be solved for the terrestrial equatorial protuberance for the purpose of obtaining the Sun-synchronism condition. Lastly, the results achieved through numeric simulations using a developed software tool are presented, these simulations are analyzed and classified regarding different scenarios depending on the impulse location, order of the maneuvers and used launching method.
En este trabajo se describe un estudio sobre un análisis de misión preliminar de un nanosatélite CubeSat para colocarlo en una órbita heliosíncrona, se parte desde su puesta en órbita, bien utilizando el lanzador Ariane 5 desde una órbita de aparcamiento GTO (Geostationary Transfer Orbit) o las facilidades de la ISS (International Space Station). Se introduce, inicialmente, la teoría de maniobras impulsivas que posteriormente se utilizará para colocar el satélite en la órbita final deseada. A continuación, se describen las características de la órbita heliosíncrona, que mantiene en cada traza del satélite la misma orientación con respecto al Sol. Se analiza entonces el movimiento perturbado de un satélite en el campo gravitatorio alrededor de la Tierra y se resuelven las ecuaciones de Lagrange para el abultamiento ecuatorial terrestre con el fin de obtener la condición de heliosincronismo. Por último, se presentan los resultados obtenidos a partir de las simulaciones numéricas, haciendo uso de una herramienta de software desarrollada, dichas simulaciones se analizan y clasifican atendiendo a diferentes casuísticas dependiendo del lugar de impulso, orden de las maniobras y método de lanzamiento utilizado.