Publication:
Evolución del deslizamiento de Pajonales (Depresión de Tirajana, Gran Canaria): un caso de reactivación parcial progresiva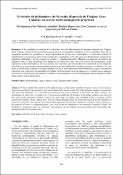 Advisors (or tutors)
Editors
Publisher
Sociedad Geológica de España.
Abstract
Se ha estudiado la evolución de las distintas fases del deslizamiento de Pajonales (barranco de Tirajana, Gran Canaria), a partir de las características geotécnicas de los materiales volcánicos in situ y deslizados. Para ello, se recogieron muestras de piroclastos y suelos representativos de las masas deslizadas y se realizaron ensayos de identificación y resistencia al corte. Se ha reconstruido la morfología de la ladera previa al deslizamiento a partir de las superficies deslizadas y de los escarpes de primera y segunda generación. Mediante un programa de análisis del equilibrio límite se han identificado las superficies de rotura para cada una de las fases del deslizamiento. Estas superficies se han desarrollado a través de niveles limo-arcillosos, que son producto de la alteración de los materiales piroclásticos, y que presentan las propiedades geotécnicas más desfavorables (valores mínimos o residuales). Por otra parte, se verificó que la presencia de agua constituye un factor desencadenante del deslizamiento, ya que es necesaria la saturación total o parcial de los materiales. Por último, el deslizamiento es de tipo progresivo: a medida que se producen las sucesivas reactivaciones, las masas ya deslizadas se descomponen en otras más pequeñas que se desplazan, ladera abajo, hacia el centro del barranco.
We have studied the evolution of the different stages of Pajonales landslide (Tirajana ravine, Gran Canaria), from the geotechnical characteristics of in situ and mobilized volcanic materials. Representative samples of pyroclasts and soils from landslides were collected and laboratory tests were performed to determine the shear strength. The morphology of slope prior to sliding was reconstructed considering the location of the failure surfaces and scarps of first and second generation. Failure surfaces for each stage of sliding were identified using a program of limit equilibrium analysis. These surfaces have been developed through clayey silt levels that result from the alteration of pyroclastic materials, showing the most unfavourable geotechnical properties (minimal or residual values). Moreover, the presence of water is a triggering factor, since total or partial saturation of the materials is required. Finally, the landslide is a progressive type: as successive reactivations occur, the sliding masses are broken down into smaller ones moving towards the Tirajana ravine.
Collections