Publication:
Procesos sedimentarios y desarrollo de sand flats en ríos arenosos del Eoceno del Sureste de la Depresión del Duero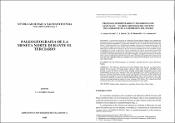 Advisors (or tutors)
Editors
Abstract
La Formación Areniscas de Cabrerizos (Eoceno Medio-Superior) está formada por depósitos siliciclásticos correspondientes a sistemas fluviales arenosos trenzados que drenaban áreas fundamentalmente metamórficas y granitoides ubicadas al sur y suroeste de la actual cuenca del Duero. La sedimentación estuvo controlada por variables autocíclicas (el endurecimiento precoz de los sedimentos superficiales que actuaron más tarde como sustratos de los canales y la presencia de obstáculos en el lecho de los canales) y alocíclicas (la estacionalidad de un clima semiarido aunque se mantenían los cursos de agua más o menos constantes). Los cauces, de elevadas relaciones de anchura/profundidad, tenían una elevada capacidad erosiva pero como el sustrato era resistente a ella, la erosión se concentró preferentemente sus propias márgenes. En algunos momentos de la historia de los canales se depositaron grandes bancos de arena (sand flats) que propiciaron la aparición de áreas elevadas topográficamente que quedaban total o parcialmente emergidas en los estadios de aguas bajas (estiaje). [ABSTRACT] The Cabrerizos Sandstone Formation (Middle-Upper Eocene) was deposited by braided fluvial systems with broad, shallow channels (hígh values of the wídth/depth ratío), flowing towards the NE, N and NW after draining metamorphic and granitic source areas. Sedimentatión occurred under autocyclic (the early hardening of the surficial sediments due to processes of calcrete fonnatíon, and the existence of obstacles in the course of the channels) and allocyclic (the seasonality of a semi-arid climate although the water courses lasted over the whole year) factors. Channels were able to erode the substralum but, as far as il was resistent, most of the erosion concentrated along the margins. In sorne moments of lhe history of the channels sand flats developed which underwent partia] subaerial exposure during low-water satges.
Collections